Research update - what do you want to be known for?
Jinfo Blog
Thursday, 17th June 2021
Abstract
Maintain long-term relevance by envisioning your Known Fors and adopting the Centre of Excellence approach.
Item
Ask yourself today: "What do you want to be known for?"
The most effective information teams answer this question strategically and ambitiously, creating a strong presence of their unique expertise for their stakeholders... and for themselves.
You can now envision your Known Fors with the release of the activity-based article and recorded Webinar in Jinfo's Focus on Centre of Excellence.
If you're concerned about long-term relevance, positioning with key stakeholders and working from a strategy rather than from a task list, we encourage you to join the dozens of Jinfo clients that have adopted the Centre of Excellence approach.
It's an exciting challenge with enormous potential. Get the support of your peers who are tackling the same challenges when you join the Community session, Centre of Excellence - make progress on your evolution, with your peers (anonymised notes available for those who cannot attend live).
If you have questions about the process, resources available, and additional guidance Jinfo can provide, get in touch today.
This item was featured in the most recent Jinfo Newsletter. The Jinfo Newsletter brings you updates on Jinfo's research, latest resources and tips. If you're not yet receiving it, register here (free).
About this article
Blog post title: Research update - what do you want to be known for?
What's new at Jinfo?
Jinfo Overview - August 2021
View on YouTube
---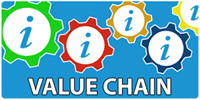 Five newly recorded webinars on how to complete the activities in our Focus on Value Chain now available.
---
Express value the way stakeholders do with Value Chain analysis
"I can now sit in a meeting with my stakeholders and articulate the role information plays in their workflows. They understand our contribution to their success." Information Senior Scientist, heavy manufacturing industry
---
With Jinfo Consulting, you get accountability, fine-tuned guidance and industry-wide perspective.
Benefit from our research
Our proven processes, resources and guidance will help your team make the shift from transaction centre to strategic asset.
---
Designed around the most common challenges and pain points for time- and resource-strapped information teams
Optimise your operations
Holistic content portfolio management
Future-proof your information service
Executive-ready communications
---
A tailored overview of our research and active discussion with your Jinfo analyst.
---
Measure your starting point to articulate your strengths and set priorities for future improvements. Assessments gauge risk, capacity, value and more.
---
Read case studies, and start the conversation:
Connect your team with the practical tools, original research and expertise to build and support information strategy in your organisation.
Jinfo Content and Community gives access to all Content (articles, reports, webinars) and Community.