Research update - resolve the frustrations of content portfolio management
Jinfo Blog
Thursday, 8th July 2021
Abstract
Content portfolio management presents many challenges, including budgeting and licensing. Draw on Jinfo's expertise to help you overcome your pain points.
Item
Lots of information teams struggle with distributed budgeting, cost allocations, and all the variations of "pass the hat" for funding information resources and services.
We're excited to start a consulting project with one client to move past these frustrations with the right combination of vision, stakeholder support, and Jinfo's methodologies in our Focus on Content Portfolio.
Over the next few months, this information team will:
Develop and validate an investment philosophy for licensing decisions, based on desired outcomes rather than (solely) on costs
Partner with senior stakeholders to cultivate organisational values of agility and innovation within the context of the portfolio strategy
Facilitate budget dialogue as the expert advisors entrusted with guiding business leaders to the best investment decisions.
Everyone responsible for content portfolio management has some frustrations, questions or organisational quirks they have to deal with.
Talk to us about your frustrations, and we can design Consulting on Content Portfolio to give you the tools, support and visibility you need as the expert content advisor to your organisation.
This item was featured in the most recent Jinfo Newsletter. The Jinfo Newsletter brings you updates on Jinfo's research, latest resources and tips. If you're not yet receiving it, register here (free).
About this article
Blog post title: Research update - resolve the frustrations of content portfolio management
What's new at Jinfo?
Jinfo Overview - August 2021
View on YouTube
---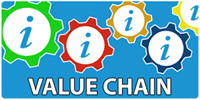 Five newly recorded webinars on how to complete the activities in our Focus on Value Chain now available.
---
Express value the way stakeholders do with Value Chain analysis
"I can now sit in a meeting with my stakeholders and articulate the role information plays in their workflows. They understand our contribution to their success." Information Senior Scientist, heavy manufacturing industry
---
With Jinfo Consulting, you get accountability, fine-tuned guidance and industry-wide perspective.
Benefit from our research
Our proven processes, resources and guidance will help your team make the shift from transaction centre to strategic asset.
---
Designed around the most common challenges and pain points for time- and resource-strapped information teams
Optimise your operations
Holistic content portfolio management
Future-proof your information service
Executive-ready communications
---
A tailored overview of our research and active discussion with your Jinfo analyst.
---
Measure your starting point to articulate your strengths and set priorities for future improvements. Assessments gauge risk, capacity, value and more.
---
Read case studies, and start the conversation:
Connect your team with the practical tools, original research and expertise to build and support information strategy in your organisation.
Jinfo Content and Community gives access to all Content (articles, reports, webinars) and Community.