Are you in a "proactive state of resilience"?
Jinfo Blog
15th November 2022
Abstract
With the year end looming, our clients are closing out their 2022 deliverables and turning their attention to 2023 and the challenge of a more uncertain operating environment.
Item
With around six weeks to go until the end of the year, our clients are turning their thoughts to their 2023 priorities.
Many of you are facing a more rigorous focus on managing cost, as organisations adopt a "proactive state of resilience" in anticipation of the more difficult operating environment.
At Jinfo, we are responding to that pressure:
Our next Community session is "Cost reduction strategies for content portfolios" (22nd November), and will be an opportunity to discuss successful cost reduction strategies. This is already proving to be a popular session, so register here and complete our poll to share your expectations.


We also recognise that most clients invest >80% of their content spend in <20% of their vendors. So, how do you realise the value and maximise the return on that investment? Our December Community session is "Holding vendors to account" (15th December 2022).


Following our October Community session, we've published a follow-up article, "The importance of Benchmarking". The key takeaway is that benchmarking is critical to setting your strategic priorities. For instance, if you compare favourably with your peers on some activities, then spend your valuable time focusing on those parts of your operation where there are the most significant opportunities for improvement.
If you have budget left for 2022, then use it to purchase (or renew) a Jinfo Subscription. It will pay for itself many times over in 2023, I guarantee it.
About this article
Blog post title: Are you in a "proactive state of resilience"?
What's new at Jinfo?
Pivoting to meet the GenAI challenge
Community session
13th December 2023
---
Empower your stakeholders
Blog posting
5th December 2023
---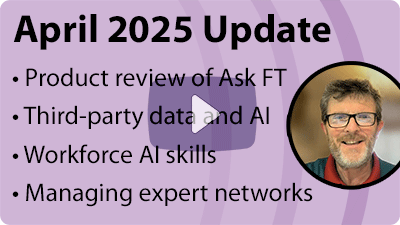 Jinfo December 2023 Update
YouTube video
7th December 2023