Happy anniversary Jinfo, née FreePint
Jinfo Blog
4th January 2023
By William Hann
Abstract
25 years, 600 editions, 500 contributors. Jinfo has come a long way, and so has the value of information work. However, information leaders still need to win the war for talent, hold vendors to account, and keep an eye on competitors.
Item
I founded Jinfo 25 years ago, as "FreePint", to help information professionals like myself with practical tips to increase their value and visibility.
Today we publish the 600th issue of the twice-monthly newsletter. The readership grew to over 100,000, in both the "buy" and the "sell" sides of the information industry, and the complete archive is available.
Over the years we launched various sub-brands – remember VIP, FUMSI, the FreePint Bar and My Favourite Tipples? These were consolidated into the "FreePint Subscription" (10 years ago), then we changed the name to "Jinfo" (6 years ago).
Over 500 information experts have contributed to Jinfo thus far. I've enjoyed working with some incredible colleagues, including the wonderful Robin Neidorf (18 years), and support team Jody and Yvonne (14 years each). Stephen Phillips joined in 2020, and is extending our network of trusted analysts.
Whilst the value of information and its leaders has risen significantly over the last quarter-century, Jinfo clients still face significant resource constraints whilst maintaining critical services.
You can benefit from Jinfo's latest practical and unique resources:
By subscribing to the newsletter, and being a Jinfo client, you are contributing to the wonderful Jinfo network, and the information industry as a whole.
Although it's no longer a "FreePint" (and your last chance to get 2022 Subscription prices) we do consider you VIPs (valuable information professionals?).
Here's to making the most of the next 25 years.
About this article
Blog post title: Happy anniversary Jinfo, née FreePint
What's new at Jinfo?
Let's talk about managing up
20th April 2023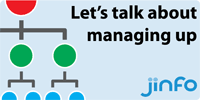 Community dates
---
[New] The Jinfo Subscription is back by popular demand!
---
"The goalposts keep moving..."
1st March 2023
Corporate belt-tightening continues and we are all being asked to do "more with less". But how practical is it to maintain service levels with diminishing resources? Before the straw breaks the proverbial camel's back, how do information leaders proactively manage stakeholders' expectations and resist the urge to "make do and mend" when budgets are tight?
Read on the Blog