Building competitive advantage – key takeaways from the February Community Session
Jinfo Article
14th February 2023
Abstract
Most organisations today have competitive intelligence capabilities, they just aren't necessarily formally named "competitive intelligence". Understanding the competitive environment, the opportunities, and the challenges that an organisation faces is essential for both survival and growth.
Many information leaders are either already directly involved in supporting intelligence activities within their organisation or, if not, they are exploring how they can become more involved. Our February 2023 Community session was an opportunity to discuss what competitive intelligence looks like in reality and how information leaders can have more impact.
Content Access
Access to Jinfo Content and Community is available to Jinfo clients.
Is your organisation a Jinfo client?
"Yes"
Please sign in here so that we can check your access to this item:
"Not yet"
Access to this article is available to Jinfo clients. Becoming a client will help your organisation:
Save time and money
Re-invent information services
Define, measure and communicate information value.
---
"Don't know"
Submit the Enquiry form to find out if your organisation is already a client or to discuss your questions or requirements.

Or use the 'Text Chat' button at the bottom-right of this page for immediate assistance.
Stephen Phillips
Lead Analyst
stephen.phillips@jinfo.com
About this article
Article title: Building competitive advantage – key takeaways from the February Community Session
---
What's new at Jinfo?
Let's talk about managing up
20th April 2023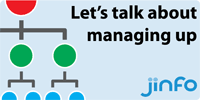 Community dates
---
[New] The Jinfo Subscription is back by popular demand!
---
"The goalposts keep moving..."
1st March 2023
Corporate belt-tightening continues and we are all being asked to do "more with less". But how practical is it to maintain service levels with diminishing resources? Before the straw breaks the proverbial camel's back, how do information leaders proactively manage stakeholders' expectations and resist the urge to "make do and mend" when budgets are tight?
Read on the Blog