Filter the list below:
Blog post
The challenging times we work in have thrown risk assessment into sharp focus, and present major challenges to information teams getting used to working remotely. This blog sets out the big questions teams must ask of themselves as they seek to demonstrate the value they bring to organisations.
Blog post
Are you up to speed with the General Data Protection Regulation (GDPR), an EU initiative impacting on data privacy across Europe and coming into force on 25th May?
Blog post
Find out what our reviewer thought of LexisNexis TraceIQ, an online tracing and investigation tool used for fraud detection and prevention.
Blog post
RiskScreen became a paid-for due diligence monitoring product in 2016, after 10 years of being free. Jinfo's recent mini review by Penny Crossland looked at how the new offering stacks up.
Blog post
The implementation of the "Markets in Financial Instruments Directive" (MiFID II) next year will impact the way in which some financial service firms, such as investment banks, provide research to clients. Information professionals can play an important part in the implementation of these changes.
Blog post
A growing armoury of risk and compliance products from LexisNexis Risk Solutions and Dun & Bradstreet look sure to make choices in this sector ever more competitive.
Blog post
The internet has made so much information available that it's easy for some to think it's all free and up for grabs. But is it ok to include certain graphics in your own reports, blogs or documents, especially if you've made some changes or even redrawn them? Clare Painter's article: "How does copyright apply to tables, charts and other figures?" will give you essential tips on avoiding copyright infringements.
Blog post
Managing risk and compliance is a must-do across industries and there's a wide range of products to choose from. In our latest postings, Jinfo contributors take a look at what Ideagen and Thomson Reuters have to offer.
Blog post
Our "Jinfo survey on data analytics - 2016" is a must-read for getting ahead on data analytics in 2017. The take-home message from this survey is that information professionals will need to be bolder to make inroads into a field that's full of "unknowns". In a nutshell - don't allow yourself to be pushed out!
Blog post
How involved are information professionals in data analytics projects - and how well is their expertise understood by industry leaders? Read the early results of our survey into data analytics, and complete the survey yourself to ensure you receive a copy of the report.
What's new at Jinfo?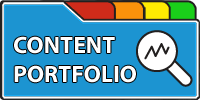 Improve your negotiation position, measure performance of your portfolio of external content, and communicate more effectively with stakeholders.
---
A Jinfo Subscription gets you access to activity-based content to move your projects forward, plus dynamic peer group discussions on meaty topics.