Jinfo for information strategy
Category
Filter the list below:
Article
To demonstrate the value of your information strategy, you need to be specific about your goals. This article looks at how you can do this using Jinfo's value chain and covers the examples of efficiency, innovation, risk management and transparency, amongst others.
Note: This article is part of the Focus on Value Chain.
What's new at Jinfo?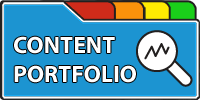 Improve your negotiation position, measure performance of your portfolio of external content, and communicate more effectively with stakeholders.
---
A Jinfo Subscription gets you access to activity-based content to move your projects forward, plus dynamic peer group discussions on meaty topics.