Focus on Value Chain
Category
Filter the list below:
Webinar
With a complete value chain analysis and the right measurements, you can report how your services and expertise contribute to the outcomes your stakeholders care about. To create an effective report, use the data you defined and captured in your value chain analysis and organise it to tell a...
Webinar
Measuring your contribution to all links in the value chain means going beyond case studies and usage statistics. You need to determine, collect and analyse the data that points to your contributions to the conditions of business success. The activities in Jinfo articles in our Focus on Value...
Webinar
Value chain analysis enables you to measure and communicate the impact of information services and expertise - demonstrate your contributions to such business goals as efficiency, innovation and generating revenue. To get started with value chain analysis, view this walkthrough of the first...
Webinar
Jinfo's Focus on Value Chain is about demonstrating how the information team contributes to the goals of their organisation. The key is to present your work and impact in your stakeholder's context for value: how they measure success. Review the article in Jinfo's article "Your contributions to...
What's new at Jinfo?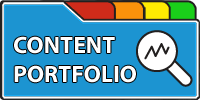 Improve your negotiation position, measure performance of your portfolio of external content, and communicate more effectively with stakeholders.
---
A Jinfo Subscription gets you access to activity-based content to move your projects forward, plus dynamic peer group discussions on meaty topics.