Focus on Content Portfolio
Category
Filter the list below:
Webinar
Useful scorecards for product evaluation, stakeholder communication and negotiation support include the components you care about and reflect a scoring system that makes sense to you.In this Webinar, Jinfo's Director of Research Robin Neidorf will walk through the activities we've designed...
Webinar
Scorecards are a compelling concept to support evaluation of products and vendors, communication with stakeholders and licence negotiations. Jinfo has developed a comprehensive guide to the thinking process to follow in order to craft useful – and manageable – scorecards. It...
Community event
Following the success of our first negotiation clinic featuring role-play scenarios, we invite you to bring your tricky situations to this session.In this session, we will run three role-playing scenarios, covering different aspects of negotiations on content and data licensing contracts....
Article
Scorecards are a useful tool when it comes to content licensing. This article is the first of five that guides you through a series of activities to help you design and create your own scorecards. This first article helps you define your goals and set your priorities.
Community event
We know that usage is only one component of what constitutes "value" but it is a very important component. But many content portfolio managers have difficulty:Getting reliable usage dataUsing data in "apples to apples" comparisonsInterpreting data to clarify the value of a...
Community event
If you license external information and data into your organisation, you've likely encountered a wide range of pricing models, supplier requirements and unique use clauses.This Jinfo Community session, part of our Focus on Content Portfolio, provided a forum for us to discuss:Current...
Article
In the second of a five-part series of articles looking at intelligence systems, we explore the interactive options available. This article looks at Aurora's FirstLight, InfoDesk, InfoNgen, Comintelli's Intelligence2day and Northern Light's SinglePoint with a particular focus on dashboard and collaborative features.
Article
This is the first in a five-part series of articles looking at the content management features of intelligence systems. This article describes the components of an intelligence system, the type of content it's likely to include as well as a scorecard for content management features. All-in-one products covered include Factiva, Nexis Newsdesk, NewsEdge, and Northern Light's SinglePoint. We also look at platform-only products including Aurora's FirstLight, InfoDesk, InfoNgen and Intelligence2day.
Blog post
Jinfo's latest Focus will help you develop your strategic content portfolio management skills and get to grips with content licensing and value-driven management.
Webinar
In this webinar, Steve Bynghall presented a clear overview of how to design comprehensive product evaluations. This framework was developed following interviews with Benoit Sollie at Cargill, demonstrating best practice for comparing products against end-user needs.To get the most value from this...
What's new at Jinfo?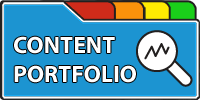 Improve your negotiation position, measure performance of your portfolio of external content, and communicate more effectively with stakeholders.
---
A Jinfo Subscription gets you access to activity-based content to move your projects forward, plus dynamic peer group discussions on meaty topics.