Scott Attenborough

Scott Attenborough is the owner of Content Capital where he specialises in content analysis, product evaluation and development, and project management for diverse data projects. These projects include legal, streaming media, pharmaceutical, and health care sectors. Before Content Capital Scott held product and project management positions at LexisNexis where he collaborated with Google, Yahoo, Dun & Bradstreet, Hoover's, and others on data projects.
Articles by Scott Attenborough:
---

Mini review of Global Market Model
Tuesday, 2nd February 2021
Global Market Model by The Business Research Company is a market intelligence tool designed to help companies find new customers, understand competitors and analyse global markets. This mini review looks at the company behind the product, as well as its extensive database of economic and market data and forecasts. We find out what changes have been made to the product since Jinfo last reviewed it a couple of years ago. We also take a look at some of its competitors, including Euromonitor's Passport, MarketLine's Advantage, IBISWorld, and Fitch Solutions Country Risk & Industry Research.
---

Information Professionals Need to Know About Big Data
Friday, 27th May 2016
Big data is all around us today. Projects that use big data are often difficult to identify. This article explains how to identify big data projects, why big data is growing, and explain the issues that exist within big data projects today. This knowledge will enable information professionals to articulate how their skills bring value to those projects.
What's new at Jinfo?
Jinfo Overview - August 2021
View on YouTube
---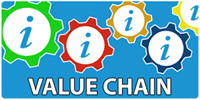 Five newly recorded webinars on how to complete the activities in our Focus on Value Chain now available.
---
Express value the way stakeholders do with Value Chain analysis
"I can now sit in a meeting with my stakeholders and articulate the role information plays in their workflows. They understand our contribution to their success." Information Senior Scientist, heavy manufacturing industry
---
With Jinfo Consulting, you get accountability, fine-tuned guidance and industry-wide perspective.