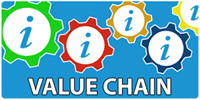 Yes, you CAN measure - and communicate - the value of information products and services.
Document the value chain, and transform the way you think about, manage and report on your product portfolio and your information service contributions to your organisation goals.
In these resources you'll find sample analyses of: Efficiency · Innovation · Generating revenue · Risk management · Transparency · Making smarter decisions
All articles, reports, webinars and Community sessions are included with a Jinfo Subscription.
Learn more and purchase »
Start your Value Chain analysis here
Use the activities outlined and described in these articles to analyse, develop and report on your contributions to value in your organisation
How do other information teams do it? Community dialogue
There's no "right" way to analyse your Value Chain. Jinfo Community sessions offer the opportunity to discuss the process, challenges and results with peers. Anonymised notes available from these past sessions:
Jinfo Consulting on Value Chain
Analysing your Value Chain is one of the most important fundamentals you can master.
Get tailored assistance from a Jinfo analyst to fast-track your progress, avoid the most common pitfalls and design an approach that works for your environment.
Talk with us about Consulting on Value Chain, to clarify how your organisation will benefit:
---

"We engaged with Jinfo Consulting to conduct Value Chain analysis to understand how our customers generate revenue and where our services in the research group add the most value. After working through the analysis, it was clear where we could best help the business grow value – and demonstrate to them our value. As a result, we were able to fine-tune our strategy, services and outreach. We are now building core services specific to the parts of the Value Chain where we have the greatest impact."
"I'm Rebecca Gebhardt Brizi, Senior analyst for Jinfo.
Please contact me to:
Discuss how your organisation's priorities fit in with Jinfo Focus areas
Get recommendations for where to start with activities and Community sessions
Explore options for tailored work within the Focus areas."
Consulting on Value Chain
Establish the ROI to your organisation of investing time in value chain analysis while learning and practicing the core principles.
Jinfo's Consulting on Value Chain gets you started and tailors the process to your environment.
Additional background on the core principles
"Documenting the value chain" was constructed as an initial analysis of the primary goals of most organisations.
Review these articles: