Measure the impact of information with Value Chain analysis
Jinfo Blog
22nd November 2021
Abstract
Value Chain analysis allows you to connect information products, services and expertise directly with business outcomes. Before you get started with the activities outlined in our Focus on Value Chain, learn why Value Chain analysis works and how you will benefit by gaining insight into users and workflows, data demonstrating business impact, and even improved negotiating positions.
Item
The most common challenges facing information teams – stakeholder engagement, ROI, contract negotiations, making time for strategy – can all be traced back to a single fundamental question:
"How can the value of information be measured, managed and maximised?"
Jinfo's "Value Chain" analysis is the process we developed to do exactly that.
Why it works
Value Chain analysis works because it starts with the business goals themselves, independent of any information products, services and expertise. Is the goal innovation, efficiency, revenue growth, managed risk, or some combination of these?
Once a business goal is defined, we can plug it into this question:
"What enables our business to accomplish ________?"
As an example, let's consider a common goal of many organisations: innovation.
What enables a business to innovate? Every business is different, but some of the common enabling characteristics are:
Collaboration across disciplines
Ease of building on prior knowledge
A culture that encourages experimentation and allows for failure
Broad and deep resources that enable unusual links to be discovered.
Taken together, these enabling characteristics are the "Value Chain".
Value Chain analysis outlines how information products, services and expertise contribute to creating these characteristics and identifies the key performance indicators for measurement.
Get started
Start with the five steps outlined in our Focus on Value Chain. Try the activities described in the articles, and review the recorded webinars for additional tips on completing them.
Through the steps, you will:
Develop a clear view of how information contributes measurably to your organisation's success
Gain greater insight on users and workflows
Strengthen your negotiating position with information suppliers
Have the data you need to make important decisions about the future of your services, team, operations and investments.
This is challenging work, and it's normal to have questions as you go through the process.
So, we can also connect you with our analysts and a peer group, to provide direct feedback and guidance. To learn more, contact your Jinfo account manager or find out more.
One Jinfo client said the following after she presented the Value Chain analysis to her stakeholders:
"They finally understand what we do."
When you do this work, you exercise ownership of information strategy. And we believe that no one in your organisation is better equipped than you to do so.
Start your journey through our Focus on Value Chain today.
About this article
Blog post title: Measure the impact of information with Value Chain analysis
What's new at Jinfo?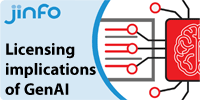 Community session: Legal implications of licensing third party content for GenAI
24th October 2023
Community dates
---
"Talent management, legal news cut, generative AI developments and new products"
5th September 2023
Learn about the vital role of nurturing the talent pipeline and succession. There's now a legal cut of our news and current awareness survey. And a real need for information managers to assert themselves to maximise the value of generative AI and mitigate the risks.
Read on the Blog