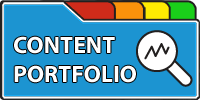 Become a more strategic content portfolio manager.
Use the methodologies provided in our Focus on Content Portfolio to:
Develop a metrics-based approach to managing and enhancing the value of your content portfolio
Strengthen your negotating position
Improving your dialogue with stakeholders for more strategic decision-making on portfolio management
Collaborate with your peers in the industry on tricky challenges relating to pricing, content markets, licensing options and more.
Your portfolio of information products and services is more than a collection of contracts. It is an investment that drives and enables key business activities.
Scroll down to start
"I'm Stephen Phillips, Lead Analyst for Jinfo.
You can advance your information strategy with the practical activities and research insights in Jinfo's Focus areas when you become a client.
Contact me to discuss your unique needs, and we can map our methods and experience to address your opportunities and challenges".
Resources
Where do you want to focus?
---
Testimonial
"The opportunity to talk through [an upcoming renewal] with a neutral party helped reset my perspective on a challenging negotiation. It reminded me that I have control, and I do not have to comply with what a supplier has asked of me when I have good reasons for not doing so. It helped me define my key concerns – being able to pinpoint exactly what I need to focus on in negotiations and where I need to start gathering evidence. Most of all, it helped my confidence in dealing with the vendor."
Resource Manager for Strategic Insights, international accounting firm