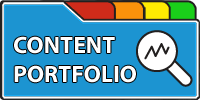 Become a more strategic content portfolio manager.
Use the methodologies provided in our Focus on Content Portfolio to:
Develop a metrics-based approach to manging and enhancing the value of your content portfolio
Strengthen your negotating position
Improving your dialogue with stakeholders for more strategic decision-making on portfolio management
Collaborate with your peers in the industry on tricky challenges relating to pricing, content markets, licensing options and more.
All articles, reports, webinars and Community sessions are included with Content and Community. Learn more and purchase »
Where do you want to focus?
Streamline and improve process, and simplify your product evaluations, using Jinfo's methodology.
Store complex information, support communications and share knowledge with scorecards.
Join your licensing peers – Community
Tailored assistance for your portfolio strategy – Consulting
Every portfolio is unique. Get tailored assistance on creating and operating a portfolio strategy, developing evaluation protocols or staying on top of industry developments with Jinfo Consulting.
Consulting on Content Portfolio
---

"The opportunity to talk through [an upcoming renewal] with a neutral party helped reset my perspective on a challenging negotiation. It reminded me that I have control, and I do not have to comply with what a supplier has asked of me when I have good reasons for not doing so. It helped me define my key concerns – being able to pinpoint exactly what I need to focus on in negotiations and where I need to start gathering evidence. Most of all, it helped my confidence in dealing with the vendor."
"I'm Rebecca Gebhardt Brizi, Senior analyst for Jinfo.
Please contact me to:
Discuss how your organisation's priorities fit in with Jinfo Focus areas
Get recommendations for where to start with activities and Community sessions
Explore options for tailored work within the Focus areas."
Consulting on Content Portfolio
Align your portfolio with what your business values


Strengthen your negotiating position


Communicate with stakeholders more effectively regarding the value of external content


Improve the value of external content based on data.