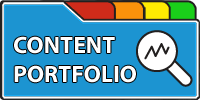 If you're responsible for bringing external content and data into your organisation, you need two things:
1. State-of-the-art insight on strategic portfolio management for value
2. Regular updates on products, vendors, disruptors and the overall marketplace.
Jinfo's Focus on Content Portfolio includes our groundbreaking framework for strategy management, how-to, and marketplace overviews you can't get elsewhere.
Plus, our Community sessions give you peer-group interactions with other professionals responsible for content portfolio management - confidential, frank and practical.
Start here
Activities-based articles and reports to update your skills
Need guidance? Recorded Webinars
Go deeper into "how to," in our Webinars, featuring examples and walkthroughs of best practice
How do other information teams do it? Community dialogue
Content licensing professionals are a select group with unique skills and knowledge. Jinfo Community sessions in our Focus on Content Portfolio enable you to learn with and from, share ideas, and network with your peers, unlike anything else in the industry.
Every portfolio is unique. Get tailored assistance on creating and operating a portfolio strategy, developing evaluation protocols or staying on top of industry developments with Jinfo Consulting.
---
Consulting on Content Portfolio
Align your portfolio with what your business values


Strengthen your negotiating position


Communicate with stakeholders more effectively regarding the value of external content


Improve the value of external content based on data.
Jinfo Subscription gives you access
Access our Content and join your peers in our unique Community sessions.
A Jinfo Subscription starts at £2500 per year.