Stephen Phillips
Lead Analyst
Stephen joined Jinfo in 2020 as a senior analyst, specialising in Content Portfolio and Value Chain. He has over 35 years' experience of information management and research.
Prior to joining Jinfo, Stephen was global Head of Business Information and Analytics at Morgan Stanley, a major global investment bank. In this role he managed a large research team and an extensive content portfolio.
His experience ranges from developing strategy and optimising services, to enhancing transparency and accountability to maximise value. Whilst at Morgan Stanley he created a peer network of information managers for the UK financial services industry.
Stephen is a non-executive director of M&A Monitor and leads business development in EMEA for Couranto. He contributed to the latest edition of "The Emerald Handbook of Modern Information Management". He is on the editorial board of Business Information Review, regularly contributing articles and running their annual survey.
Stephen is a trustee of the Chartered Institute of Library & Information Professionals (CILIP) and was 2021 Conference Chair for SLA Europe, having previously served as Chapter President. He regularly participates in product advisory boards, industry think tanks, events and conferences.
Stephen can be contacted at stephen.phillips@jinfo.com
Articles by Stephen Phillips:
---

What a difference a year makes….
Tuesday, 31st January 2023
2023 is turning out to be a very different prospect to 2022. Many information leaders have seen changes in their reporting lines as well as dealing with economic headwinds. This is a particularly difficult combination, so information leaders need to focus on articulating their value and maintaining a positive mindset.
---

Findings from the "Let's talk talent" Community session
Wednesday, 18th January 2023
Finding, attracting and retaining talent is critical to the success of any business. Given the current labour market and a dearth of people with the right skills, aptitude and attitudes, securing the right talent is a major challenge for many information leaders.
The January 2023 Community session was an opportunity to discuss these challenges with Simon Burton of CB Resourcing and explore ideas to address these issues.
---

Are you holding your vendors to account? Key takeaways from the December Community session
Tuesday, 20th December 2022
Vendor management is one of the most potent ways of demonstrating your value to the wider organisation, yet it is something many clients struggle to implement.
Catch up with our recent Community Session "Holding Vendors to Account" to find out how to build a solid foundation on which to create meaningful service-level agreements and performance targets for your vendors.
---

2022: the more things change, the more they stay the same
Tuesday, 29th November 2022
2022 started with confidence riding high, but eleven months later, things are very different. Yet our clients tell us they face the same, perennial demands: drive costs down; drive value up; deliver hyper specific business and competitor intelligence; and the ongoing war for talent to address these demands.
---

Key takeaways from the "Cost Reduction Strategies" Community session
Tuesday, 29th November 2022
Reducing costs as a tactical, "knee-jerk" reaction to unfavourable economic indicators risks significant business disruption and can, in the long run, be an expensive exercise.
As the discussion with our Information Leaders revealed; successful cost reduction strategies involve a complex combination of "Stakeholder engagement", "Demand Management", "Knowing the market" and "Proactive vendor management".
What's new at Jinfo?
Building competitive advantage
9th February 2023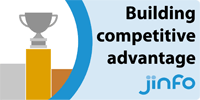 Community dates
---
[New] The Jinfo Subscription is back by popular demand!
---
"Happy anniversary Jinfo, née FreePint"
4th January 2023
25 years, 600 editions, 500 contributors. Jinfo has come a long way, and so has the value of information work. However, information leaders still need to win the war for talent, hold vendors to account, and keep an eye on competitors.
Read on the Blog