Robin Neidorf
Director of Research and Head of Consulting
Robin heads the Jinfo Research division. Original research is at the heart of Jinfo and underpins all our activities, from editorial content to webinars, consulting and Community sessions. Robin has has been working with Jinfo since 2004 and is responsible for strategic planning, developing proprietary research-based tools, partnerships and alliances, and consulting.
She is proud to be a contributor of a chapter on strategic content portfolio management in "The Emerald Handbook of Modern Information Management".
Prior to joining Jinfo, Robin ran a research and communications consulting business for 10 years. As a consultant, she focused on strategic planning, change management, and using information to make better decisions.
Working with a wide range of organisations in the for-profit and non-profit sector. Robin has developed online communities, publications and distance learning modules for a range of business purposes. She is the author of Teach Beyond Your Reach: An instructor"s guide to developing and running successful distance learning classes, workshops, training sessions and more (second edition, Cyber Age, 2012) and the co-author of E-Merchant: Retail Strategies for e-Commerce (Addison-Wesley, 2001).
Robin can be reached at robin.neidorf@jinfo.com
Articles by Robin Neidorf:
---

Research update - solve three problems when you develop scorecards
Thursday, 6th May 2021
Discover Jinfo's new Scorecard methodology offering self-paced activities to help you create the clear visual tools you need to improve stakeholder communications, strengthen negotiations and deepen your strategic content portfolio management.
---

Crafting a scorecard (step four - document scores)
Thursday, 22nd April 2021
This is the fourth of five articles that help you develop your own scorecards. Parts one to three looked at setting goals and priorities, selecting components and how to design your scoring system. This fourth article looks at what each of the scores in your scoring system actually means.
---

Research update - start with scorecards - adapt and adopt, for far-reaching benefit
Thursday, 22nd April 2021
By popular demand, Jinfo has introduced to its Focus on Content Portfolio a methodology to design your own scorecards. Use scorecards to support stronger negotiations, better stakeholder communication and improved comparisons across vendors/products.
---

Crafting a scorecard (step three - design your scoring system)
Wednesday, 21st April 2021
This is the third of five articles that aims to help you develop your own scorecards. Parts one and two helped you set goals and priorities and select components. In this article, we find out how to design your scoring system, particularly the quantitative and qualitative options you should include to align your scoring system with your goals for using your scorecards.
---

Crafting a scorecard (step two - select components)
Thursday, 15th April 2021
This is the second of five articles that aims to help you develop your own scorecards. In this article, we examine the components you should consider including on your scorecard to ensure it addresses your organisation's priorities.
Reports by Robin Neidorf:
---

Jinfo research on UK legal purchasing preferences and needs 2020
Friday, 4th December 2020
Now in its 10th year, Jinfo"s research into purchasing trends and preferences in the UK legal market reflects the significant impact of M&A activi...
---

Jinfo survey - challenges facing information teams
Monday, 8th June 2020
Jinfo recently carried out a market research survey on behalf of Springer Nature designed to elicit the opinions of corporate information centres on o...
---

Jinfo survey - the role of information professionals in a data-driven world
Thursday, 27th February 2020
This three-part report looks at the survey responses of information professionals to gauge current data-related needs and expertise amongst informatio...
---

Jinfo model - closing the confidence gap
Wednesday, 5th February 2020
This model looks at the results of Jinfo"s research on the professional landscape for information teams in the data-driven world, including how confid...
---

Jinfo model - real-world ROI of external data
Thursday, 16th January 2020
To some, it may seem as if the ongoing value of the external data sources your organisation invests in is hard to quantify. Jinfo"s model will guide y...
What's new at Jinfo?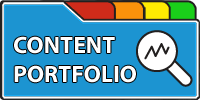 Latest in this Focus: Scorecards. Use Jinfo's step-by-step methodology to craft scorecards to strengthen negotiations, communicate with stakeholders, compare value of products and manage your portfolio more strategically.
---
What's your priority?
Use our self-assessment worksheet to determine your pathway towards more strategic portfolio management: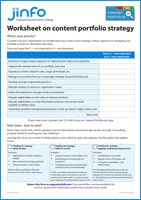 ---
A Jinfo Subscription gets you access to activity-based content to move your projects forward, plus dynamic peer group discussions on meaty topics.