Robin Neidorf
Director of Research, Emerita
Robin Neidorf first began working with Jinfo in 2004 and served in a variety of leadership roles, culminating with Director of Research. In this role, she refined Jinfo's unique and proprietary Focus methodologies on Value Chain, Content Portfolio and Centre of Excellence, and then worked with other analysts to document them for broader use and adoption across the information industry.
Robin retired from Jinfo in 2022, retaining the title of Emerita and continuing to provide guidance, mentorship and coaching to senior analysts and other stakeholders, as they continued to use and adapt Jinfo's methodologies.
Articles by Robin Neidorf:
---

The value of information remains at the heart of it all
Friday, 8th July 2022
Jinfo's Director of Research reflects on the fundamental question of how to measure the value of information as she retires to the status of Emerita.
---

What can you do with Value Chain Analysis? What CAN'T you do?
Wednesday, 11th May 2022
Value Chain Analysis has its roots in client work, going back nearly a decade. Since then, information teams in a range of industries have adapted and applied it to a host of business challenges, with transformative results.
---

Trust Your Knowledge, Elevate Your Standing
Wednesday, 27th April 2022
We challenge and encourage information teams to trust – and then build on – their knowledge of the business context for information. The most common response we get is, "But we don't know, and stakeholders don't tell us." Here's the secret: You know more than you think you do. Trust your knowledge.
---

Change your mindset, change your world
Wednesday, 13th April 2022
Information teams want to tie value to business impact, deepen their relationships with stakeholders, and be perceived and operate as strategic partners in the business. But, before they can do any of these things, they have to shift their own mindset. Jinfo clients learn why and how through Community sessions and 1:1 work with our analysts, and the results of this shift in mindset rocks their world.
---

Information leaders start in front of the mirror
Wednesday, 23rd March 2022
Information leaders have a wide range of personalities, skills and spheres of influence – there's a leadership style that suits just about everyone. Jinfo clients explore and cultivate theirs in Community sessions and 1:1 work with our analysts. Think you aren't leadership material? Look in the mirror and think again.
Reports by Robin Neidorf:
---

Jinfo research on UK legal purchasing preferences and needs 2020
Friday, 4th December 2020
Now in its 10th year, Jinfo"s research into purchasing trends and preferences in the UK legal market reflects the significant impact of M&A activi...
---

Jinfo survey - challenges facing information teams
Monday, 8th June 2020
Jinfo recently carried out a market research survey on behalf of Springer Nature designed to elicit the opinions of corporate information centres on o...
---

Jinfo survey - the role of information professionals in a data-driven world
Thursday, 27th February 2020
This three-part report looks at the survey responses of information professionals to gauge current data-related needs and expertise amongst informatio...
---

Jinfo model - closing the confidence gap
Wednesday, 5th February 2020
This model looks at the results of Jinfo"s research on the professional landscape for information teams in the data-driven world, including how confid...
---

Jinfo model - real-world ROI of external data
Thursday, 16th January 2020
To some, it may seem as if the ongoing value of the external data sources your organisation invests in is hard to quantify. Jinfo"s model will guide y...
What's new at Jinfo?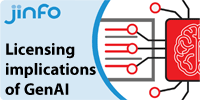 Community session: Legal implications of licensing third party content for GenAI
24th October 2023
Community dates
---
"Talent management, legal news cut, generative AI developments and new products"
5th September 2023
Learn about the vital role of nurturing the talent pipeline and succession. There's now a legal cut of our news and current awareness survey. And a real need for information managers to assert themselves to maximise the value of generative AI and mitigate the risks.
Read on the Blog