Information leaders start in front of the mirror
Jinfo Blog
23rd March 2022
Abstract
Information leaders have a wide range of personalities, skills and spheres of influence – there's a leadership style that suits just about everyone. Jinfo clients explore and cultivate theirs in Community sessions and 1:1 work with our analysts. Think you aren't leadership material? Look in the mirror and think again.
Item
This month, we're examining the difference between "information managers" and "information leaders" from different angles – behaviours, examples, and practical suggestions for adjustments that will help you grow as a leader.
There's an important first step that every single information manager, emerging or mature information leader can take, and re-take, every single day:
When you look in the mirror, see an information leader.
Cultivate and reinforce your self-perception as expert, strategic, valuable and insightful. This is the one common characteristic of every truly effective information leader.
This month's Community session, "Advance as an information leader, activate your expertise" (29th March) will discuss the importance of self-perception, and there are only a few available seats remaining.
Find your leadership style
It's always a pleasure – and indeed an honour – to work with Jinfo clients on finding the leadership style that works for them. We look at:
the nature of the business
the priorities of information strategy
the number and variety of stakeholders, direct reports and partners...
... to articulate what leadership means in a given context.
Equally important is the attention we pay to what works for a specific person. I've encountered far too many information professionals who think they can't possibly be leaders.
Introverts can be leaders. Remote workers can be leaders. Some lead three people; some lead three hundred people. Nothing disqualifies you from making this journey.
Are you ready to explore the next step? We can help you find your way. Contact us today.
About this article
Blog post title: Information leaders start in front of the mirror
What's new at Jinfo?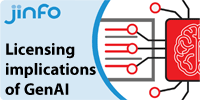 Community session: Legal implications of licensing third party content for GenAI
24th October 2023
Community dates
---
"Talent management, legal news cut, generative AI developments and new products"
5th September 2023
Learn about the vital role of nurturing the talent pipeline and succession. There's now a legal cut of our news and current awareness survey. And a real need for information managers to assert themselves to maximise the value of generative AI and mitigate the risks.
Read on the Blog