Advance as an information leader, activate your expertise
Jinfo Community
29th March 2022

Description
You are more than an information expert: you are an information leader, working as an advisor and connector between information and your organisation's goals.
In this session we shared experiences and tips in making this shift from "information manager" to "information leader", and the impact this change has had on stakeholder relationships.
We often repeat to clients: "You know more than you think you do." When you learn to articulate and trust your own expertise, you start on the pathway to advance as an information leader. See the report below to learn practical tips to get started.
Slide presentation and notes
This event has passed, and a recording and/or slide deck is available through a Jinfo Subscription.
If your organisation has a Jinfo Subscription, please sign in here so that we can check your account:
About this Event
Community event title: Advance as an information leader, activate your expertise

Related reports:
What's new at Jinfo?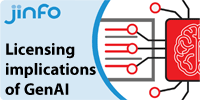 Community session: Legal implications of licensing third party content for GenAI
24th October 2023
Community dates
---
"Talent management, legal news cut, generative AI developments and new products"
5th September 2023
Learn about the vital role of nurturing the talent pipeline and succession. There's now a legal cut of our news and current awareness survey. And a real need for information managers to assert themselves to maximise the value of generative AI and mitigate the risks.
Read on the Blog