What can you do with Value Chain Analysis? What CAN'T you do?
Jinfo Blog
11th May 2022
Abstract
Value Chain Analysis has its roots in client work, going back nearly a decade. Since then, information teams in a range of industries have adapted and applied it to a host of business challenges, with transformative results.
Item
I'm occasionally asked how Jinfo developed the methodology for Value Chain Analysis. In the latest video on our YouTube channel, "What's the origin of Value Chain Analysis?" (5 minutes), I explain the genesis of the idea that became the method, arising in a client meeting nearly a decade ago.
Since that time, we have adapted and applied the methodology to clients across the spectrum of industries – pharma, manufacturing, professional services, even information suppliers.
They, in turn, have applied it to a range of challenges:
Aligning investments in information with value to the business
Ensuring that precious team capacity is spent on the most valuable activities
Identifying meaningful KPIs for the value of information products, services and expertise (hint: it's rarely "usage")
Learning to speak the language of stakeholders to transform those critical relationships.
As I write this, we have no fewer than 10 active client engagements in which Value Chain Analysis is a central component. Each is at a different stage in the process; each team is applying the concepts a bit differently.
What is consistent, however, is that this work is transformative. The skills and perspective a team develops through Value Chain Analysis utterly change how they run their departments, communicate with stakeholders, and perceive their own value.
That's powerful. Especially when multiplied by 10 – not to mention all the teams we've worked with before.
It takes most teams about three months to work through the foundation of Value Chain Analysis. Although our client roster is full through August 2022, we do have limited capacity to get you and your team started, from September.
If you'd like to emerge from 2022 with a transformed ability to measure, manage and communicate value, start the conversation today.
About this article
Blog post title: What can you do with Value Chain Analysis? What CAN'T you do?
What's new at Jinfo?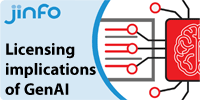 Community session: Legal implications of licensing third party content for GenAI
24th October 2023
Community dates
---
"Talent management, legal news cut, generative AI developments and new products"
5th September 2023
Learn about the vital role of nurturing the talent pipeline and succession. There's now a legal cut of our news and current awareness survey. And a real need for information managers to assert themselves to maximise the value of generative AI and mitigate the risks.
Read on the Blog