Community deck - Value Chain foundation – mastering the mindset
Jinfo Report
17th May 2022
Abstract
The foundation of Value Chain Analysis requires you to shift your mindset to focus on a question that information teams are not accustomed to answering in detail: "What is the business trying to accomplish?"
Mastering this shift takes practice, feedback and – often – external perspective to get away from the way you're used to looking at things in order to explore alternatives.
May's Community session provided a forum for practice, feedback and perspective amongst information leaders working on similar challenges.
During this session, we tackled Value Chain Analysis, Step 1 - Foundation. Using examples adapted from client projects and facilitated discussion, participants practised articulating their knowledge, analysing business activities, and identifying the questions requiring additional research with stakeholders.
Prior to the session, participants were asked to spend 30 minutes on Step 1 - Foundation, from Jinfo's Focus on Value Chain:
Sign in with your MyJinfo credentials to access these materials. Then review the Jinfo Report from this session with the anonymised notes from our discussion to catch up on what you missed or reflect on what you heard.
Content Access
Access to Jinfo Content and Community is available through a Jinfo Subscription.
Does your organisation have a Jinfo Subscription?
"Not yet"
Access to this report is available through a Jinfo Subscription, which will help your organisation:
Save time and money
Re-invent information services
Define, measure and communicate information value.
---
"Don't know"
Contact us to find out if your organisation already has a Jinfo Subscription.

Or use the 'Text Chat' button at the bottom-right of this page for immediate assistance.
About this report
Report title: Community deck - Value Chain foundation – mastering the mindset
Pages: 13
What's new at Jinfo?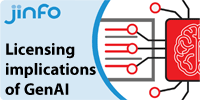 Community session: Legal implications of licensing third party content for GenAI
24th October 2023
Community dates
---
"Talent management, legal news cut, generative AI developments and new products"
5th September 2023
Learn about the vital role of nurturing the talent pipeline and succession. There's now a legal cut of our news and current awareness survey. And a real need for information managers to assert themselves to maximise the value of generative AI and mitigate the risks.
Read on the Blog