Value Chain foundation – mastering the mindset
Jinfo Event
5th May 2022

[Focus: Value Chain]
Description
The foundation of Value Chain Analysis requires you to shift your mindset to focus on a question that information teams are not accustomed to answering in detail: "What is the business trying to accomplish?"
Mastering this shift takes practice, feedback and – often – external perspective to get away from the way you're used to looking at things in order to explore alternatives.
May's Community session provided a forum for practice, feedback and perspective amongst information leaders working on similar challenges.
During this session, we tackled Value Chain Analysis, Step 1 - Foundation. Using examples adapted from client projects and facilitated discussion, participants practised articulating their knowledge, analysing business activities, and identifying the questions requiring additional research with stakeholders.
Prior to the session, participants were asked to spend 30 minutes on Step 1 - Foundation, from Jinfo's Focus on Value Chain:
Sign in with your MyJinfo credentials to access these materials. Then review the Jinfo Report from this session with the anonymised notes from our discussion to catch up on what you missed or reflect on what you heard.
Slide presentation and notes
This event has passed, and a recording and/or slide deck is available for Jinfo clients.
If you are a client, please sign in here so that we can check your account:
About this Event
Community event title: Value Chain foundation – mastering the mindset

Related reports:
What's new at Jinfo?
Building competitive advantage
9th February 2023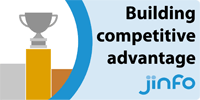 Community dates
---
[New] The Jinfo Subscription is back by popular demand!
---
"Happy anniversary Jinfo, née FreePint"
4th January 2023
25 years, 600 editions, 500 contributors. Jinfo has come a long way, and so has the value of information work. However, information leaders still need to win the war for talent, hold vendors to account, and keep an eye on competitors.
Read on the Blog