17th May 2022
[Focus: Value Chain]
Description
For the final step in Jinfo's Focus on Value Chain, you will collect, normalise and start to work with data that points to value. This recorded webinar explains how to use the validation results of your Draft Analysis of Value to identify and manage data to demonstrate value.
Once you have reviewed this recorded webinar, complete "Step 3 – Application" by completing the activity "Piloting Value Chain". Then, with a prototyped framework in place, you will have the foundation you need for ongoing enhancement of value.
Webinar Recording and/or Slide Deck
This event has passed, and a recording and/or slide deck is available for Jinfo clients.
If you are a client, please sign in here so that we can check your account:
About this Webinar
Webinar title: Making data meaningful
What's new at Jinfo?
Let's talk about managing up
20th April 2023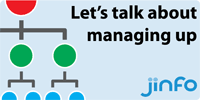 Community dates
---
[New] The Jinfo Subscription is back by popular demand!
---
"The goalposts keep moving..."
1st March 2023
Corporate belt-tightening continues and we are all being asked to do "more with less". But how practical is it to maintain service levels with diminishing resources? Before the straw breaks the proverbial camel's back, how do information leaders proactively manage stakeholders' expectations and resist the urge to "make do and mend" when budgets are tight?
Read on the Blog