Denise Carter
Senior Analyst
Denise has worked for more than 35 years in the areas of information management, research & analysis, and competitive intelligence. She holds a Masters degree in Information Management; and is a Chartered Fellow of the Chartered Institute of Library & Information Professionals (FCLIP). She is a certified Competitive Intelligence Professional (CIP-1).
Denise has proven experience in creating and developing highly effective information solutions to support organisational goals and objectives. Over her career Denise has built three information units from the ground up; creating new information services and resources for different organizations. Denise works with multiple clients on projects to provide research, analysis, experience and know-how that enhances their competitive intelligence deliverables.
Denise previously worked in the Global Business Intelligence department of Merck Serono, a global bio-pharmaceutical company based in Switzerland. She built and led the Knowledge Analytics team, delivering high-quality competitive information data sets to support the strategic objectives of the business.
Denise is also an active participant in the global professional information community. She served as the 2022-23 President for the Association of Independent Information Professionals (AIIP), she is on the Editorial Board for Business Information Review (Sage). Denise has published articles and blogs on many varied information topics and presented at international conferences.
Denise can be contacted at denise.carter@jinfo.com
What's new at Jinfo?
Holding vendors to account
Thursday, 15th December 2022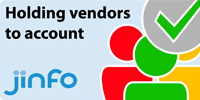 Community dates
---
[New] The Jinfo Subscription is back by popular demand!
13th October 2022
---
"Are you in a "proactive state of resilience"?"
15th November 2022
With the year end looming, our clients are closing out their 2022 deliverables and turning their attention to 2023 and the challenge of a more uncertain operating environment.
Read on the Blog