Hélène Russell
Senior Analyst
Hélène Russell has more than 15 years' experience working in the fields of information and knowledge management. Prior to moving into this field, Hélène spent eight years working as a clinical negligence litigation lawyer followed by two years as a Knowledge Lawyer. Hélène went on to achieve an executive MBA with distinction, studying antecedents to knowledge sharing for her dissertation.
Hélène specialises in translating complex thought leadership and cross-boundary theories into practical tools to improve the efficiency and profitability of real-life businesses. She has a particular interest in encouraging the sharing of complex knowledge and the people-related challenges of Knowledge Management.
Hélène works with a wide range of clients, including law firms, pharmaceutical, health and retail sectors on a variety of strategic projects, strategy creation, as well as coaching, mentoring and support of senior leaders.
Hélène is the Chair of the CILIP Knowledge and Information Management group and a core committee member for the UK Knowledge Mobilisation Forum. She has Chaired international conferences and spoken at various conferences and events, as well as authored a number of key texts on KM and been a contributing author to many other publications.
Hélène can be contacted at helene.russell@jinfo.com
What's new at Jinfo?
Building competitive advantage
9th February 2023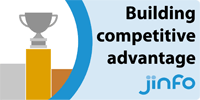 Community dates
---
[New] The Jinfo Subscription is back by popular demand!
---
"Happy anniversary Jinfo, née FreePint"
4th January 2023
25 years, 600 editions, 500 contributors. Jinfo has come a long way, and so has the value of information work. However, information leaders still need to win the war for talent, hold vendors to account, and keep an eye on competitors.
Read on the Blog