Michele Bate

Michele has over 20 years" business research experience, gained in corporate investigations, banking, corporate finance, executive search and management consultancy. Before becoming a freelance researcher more than a decade ago she was the Research Director for the corporate investigations practice of Control Risks Group. Her company Archer Van Den Broeck offers a bespoke research service, specialising in due diligence, litigation support and other investigative research. Michele is an active member of the Association of Independent Information Professionals.
Articles by Michele Bate:
---

Time to sharpen your information tools - A VIP Editorial
Tuesday, 22nd May 2012
I recently completed a major house renovation project, so my mind has been occupied with building matters over the last few months. In the midst all the financial pain and stressful disruption, I found some interesting parallels with my "day job" as a researcher.
---

Google in the firing line again
Saturday, 27th February 2010
---

Google creates a negative buzz
Monday, 22nd February 2010
---

Bloomberg Law - creating the "big three"?
Monday, 22nd February 2010
---

LexisNexis links with Microsoft
Monday, 8th February 2010
What's new at Jinfo?
Jinfo Overview - August 2021
View on YouTube
---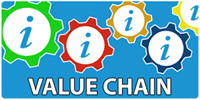 Five newly recorded webinars on how to complete the activities in our Focus on Value Chain now available.
---
Express value the way stakeholders do with Value Chain analysis
"I can now sit in a meeting with my stakeholders and articulate the role information plays in their workflows. They understand our contribution to their success." Information Senior Scientist, heavy manufacturing industry
---
With Jinfo Consulting, you get accountability, fine-tuned guidance and industry-wide perspective.