Sarah Dillingham

Articles by Sarah Dillingham:
---

Piloting SharePoint 2013 at the UK's National Audit Office
Thursday, 13th March 2014
In a case study on the National Audit Office's introduction of SharePoint 2013, Sarah Dillingham interviews the NAO's intranet manager, Patrick Callaghan, to find out how the organisation is encouraging SharePoint's adoption through early adopters and targeted training sessions.
---

SharePoint 2013 - Using Social Features Effectively
Monday, 3rd March 2014
Microsoft has finally integrated social elements into SharePoint through the release of SharePoint 2013. Organisations looking to upgrade from SharePoint 2007 or 2010 want to know how to use these features in a way that will offer maximum benefit to the organisation. Sarah Dillingham outlines some strategies to consider when thinking about how your organisation can make best use of these tools.
---

How Do You Solve a Problem Like CVs?
Thursday, 2nd January 2014
CVs, resumés and skill sets are an essential part of new business proposals, particularly for professional services organisations such as legal firms, consultancies and accountants. How best to manage the CVs is a challenge for knowledge and information professionals who have to facilitate fast access to the information, ensure the documents are accurate, can be easily shared and that the formatting allows easy output, copying and sharing.
---

Getting the Most Out Of Expert Directories & Staff Profiles
Friday, 27th December 2013
Sarah Dillingham asks how you can maximise the usage and usefulness of your organisation's staff or expert directory. She examines how companies can ensure their people data is current and how they can best manage information across multiple sources, from Active Directory to Outlook, intranets such as SharePoint, internal social media like Yammer and external social media sites including LinkedIn.
---

Communities of Practice - Acting as a Trusted Adviser
Monday, 16th December 2013
Sarah Dillingham examines how knowledge and information professionals can support the organisation in realising the best value from their communities by encouraging and supporting Communities of Practice. She highlights some sample templates, guides and examples and points to case studies from organisations including Cap Gemini, Fluor and Xerox.
What's new at Jinfo?
Jinfo Overview - August 2021
View on YouTube
---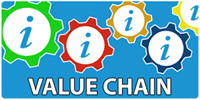 Five newly recorded webinars on how to complete the activities in our Focus on Value Chain now available.
---
Express value the way stakeholders do with Value Chain analysis
"I can now sit in a meeting with my stakeholders and articulate the role information plays in their workflows. They understand our contribution to their success." Information Senior Scientist, heavy manufacturing industry
---
With Jinfo Consulting, you get accountability, fine-tuned guidance and industry-wide perspective.