Penny Crossland

Penny Crossland is the owner of CH Business Research, a consultancy specialising in investigative research and market intelligence. Penny conducts research projects for clients from a variety of industry sectors, including financial services, management and security consultancy, FMCG, publishing and retail. Fluent in German, she also translates academic papers and corporate material.
Before establishing her business in 2001, Penny was Research Manager at OC&C Strategy Consultants in London. Penny graduated from Bristol University with a degree in German and Politics and has a Masters degree from London University in contemporary German Literature.
Articles by Penny Crossland:
---

My Favourite Tipples from a due diligence researcher
Wednesday, 22nd August 2018
My Favourite Tipples are shared by Penny Crossland of the School of Oriental and African Studies (SOAS), University of London and director of CH Business Research Ltd, an investigative research consultancy specialising in open source intelligence. She shares go-to sources for the non-profit sector in Asia and Africa.
---

Mini review of RiskScreen from KYC360
Friday, 7th April 2017
RiskScreen from KYC360 aggregates open web-based sources for references to adverse news on people, companies and vessels. This mini review looks at what's changed since our overview article in September 2014.
This review:
Covers changes and developments since 2014
Discusses the platform's value and commercial benefit
Looks at key sources, content and coverage
Covers pricing and looks at whether the new Pro version is worth the outlay
Looks at competitors in the field, including Thomson Reuters WorldCheck, Dow Jones' Risk Database and Exiger's DDIQ.
---

My Favourite Tipples from an Investigative Researcher
Wednesday, 16th December 2015
My Favourite Tipples are shared by Penny Crossland, director of CH Business Research Ltd, an investigative research consultancy specialising in pre-transactional due diligence, individual and company profiles and Know Your Customer and trace reports.
---

Managing and Mitigating Risk in the Enterprise - ESG Resources
Friday, 5th December 2014
Penny Crossland looks at resources that enable enterprises to invest responsibly by managing risk in the environmental, social and corporate governance (ESG) arena. These sit as a subsector within compliance information and are important tools for corporates with business dealings in high-risk sectors and jurisdictions.
---

Mini Review of RepRisk
Friday, 28th November 2014
Penny Crossland reviews RepRisk, a specialist ESG (Environmental, Social, Governance) tool to help companies manage reputational risk and facilitate corporate responsibility. It is aimed at enterprises wanting to finance or invest responsibly, manage and mitigate the ESG risks related to their clients, business transactions, suppliers and business partners, as well as monitor NGOs, ESG issues and their own reputation.
What's new at Jinfo?
Jinfo Overview - August 2021
View on YouTube
---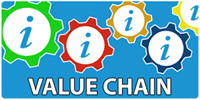 Five newly recorded webinars on how to complete the activities in our Focus on Value Chain now available.
---
Express value the way stakeholders do with Value Chain analysis
"I can now sit in a meeting with my stakeholders and articulate the role information plays in their workflows. They understand our contribution to their success." Information Senior Scientist, heavy manufacturing industry
---
With Jinfo Consulting, you get accountability, fine-tuned guidance and industry-wide perspective.