Helen Clegg

Helen Clegg is text analytics manager for the procurement & analytic solutions practice of international management consultancy A.T. Kearney. She has over 20 years" experience in international business research gained at consultancies and Fortune 500 companies in London, Munich, Paris and Amsterdam.
Helen holds a Masters in Library Science and undergraduate degree in French and German. She is a qualified Marketer (CIM) and a member of CIPS, serving on the East Anglia Branch Committee. Helen is an active contributor to the global information community having presented at Taxonomy Boot Camp, Text Analytics World, Online Information and KM World. She is a guest lecturer at the Grenoble Graduate School of Management and a peer reviewer for the Journal of Library and Information Science. You can contact Helen on helen.clegg@atkearney.com or via Twitter @HClegg.
Articles by Helen Clegg:
---

Insider knowledge - working as a text analytics manager
Thursday, 15th December 2016
We interview Helen Clegg to find out what's involved in her role as a text analytics manager in the data science team in the procurement & analytics practice of international management consultancy A.T. Kearney and how her expertise as an information professional has been an asset in the role. She discusses how she's found the role, how the business uses her analytics skills and gives advice to others considering moving into data analytics.
---

Using Taxonomies to Harness the Power of Unstructured Big Data and Develop New Insights
Monday, 27th October 2014
Taxonomy development expert Helen Clegg shares her insights into unstructured data and how it can be acquired and structured. She discusses the importance of text-mining tools, algorithms and taxonomies - as well as emphasising the essential part that knowledge workers play in information discovery.
---

Mini Review: Datamyne
Thursday, 28th March 2013
Helen Clegg reviews the Datamyne database, an authoritative source of trade data which covers the cross-border commerce of 50 countries. Aggregated and transactional data is available and there is a range of output options along with in-depth reports. The search options range from simple search to more complex options such as querying just "House" or just "Master" bill-of-lading data - Datamyne is currently the only provider of international trade data on the market that allows this distinction.
---

PrivCo: Making a researcher's life easier
Tuesday, 11th September 2012
Part of an information professional's job is to be able to navigate the ever-growing landscape of research tools, whether free or subscription-based, and make an informed decision on the most appropriate tool to use from the myriad available. This article highlights the benefits of the PrivCo database, which is filling a gap in the market by providing detailed private company financial information, including insight into funding, venture capital and M&A activities. This is a short version of a more detailed review published in the FreePint Subscription. Subscribers can login now to view.
---

Mini Review: PrivCo
Tuesday, 11th September 2012
Searching for financial information on private companies in the US is time-consuming and difficult, simply because private companies don't have to file their accounts with the SEC. This article reviews the PrivCo database, which focuses solely on providing accurate financial, M&A, venture capital and investor information on private companies. It's a rather neat tool that provides a good deal of insight on private companies all in one place, saving users the hassle of conducting multiple searches across an array of databases and social media networks.
Update: A new review of this product is available here »
What's new at Jinfo?
Jinfo Overview - August 2021
View on YouTube
---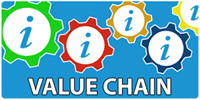 Five newly recorded webinars on how to complete the activities in our Focus on Value Chain now available.
---
Express value the way stakeholders do with Value Chain analysis
"I can now sit in a meeting with my stakeholders and articulate the role information plays in their workflows. They understand our contribution to their success." Information Senior Scientist, heavy manufacturing industry
---
With Jinfo Consulting, you get accountability, fine-tuned guidance and industry-wide perspective.