Udo Hohlfeld

Articles by Udo Hohlfeld:
---

The newspaper of tomorrow
Thursday, 29th October 2009
---

OneSource updates integration with Salesforce CRM
Tuesday, 27th October 2009
---

Google Wave - the next evolution?
Monday, 26th October 2009
---

Germany elects a new Parliament
Friday, 25th September 2009
---

FCC and net neutrality
Friday, 25th September 2009
What's new at Jinfo?
Jinfo Overview - August 2021
View on YouTube
---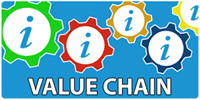 Five newly recorded webinars on how to complete the activities in our Focus on Value Chain now available.
---
Express value the way stakeholders do with Value Chain analysis
"I can now sit in a meeting with my stakeholders and articulate the role information plays in their workflows. They understand our contribution to their success." Information Senior Scientist, heavy manufacturing industry
---
With Jinfo Consulting, you get accountability, fine-tuned guidance and industry-wide perspective.