Michelle Boule

Michelle Boule is a geek librarian who loves unconferences so much she wrote a book called Mob Rule Learning: camps, unconferences, and trashing the talking head. She can be found online at A Wandering Eyre.
Articles by Michelle Boule:
---

An unconference approach can revitalise meetings and training
Thursday, 9th February 2012
For the past few years, unconferences have been gaining traction in everything from business to higher education. However unconferences can teach us more than how to hold a better, more relevant conference. They can also teach us how to run better, more relevant companies and organisations.
---

Leveraging unconference facilitation styles to revitalise training and meetings
Thursday, 9th February 2012
You may have heard of an unbirthday, a term coined by Lewis Carroll in "Through the Looking-Glass", but now we have the unconference. This is when a group of people gather together without an agenda to discuss a topic, solve a problem or learn a new skill. The idea of an unconference is based on Open Space Technology and Michelle Boule shows how the flexibility of this approach can have unexpected and valuable results.
What's new at Jinfo?
Jinfo Overview - August 2021
View on YouTube
---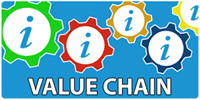 Five newly recorded webinars on how to complete the activities in our Focus on Value Chain now available.
---
Express value the way stakeholders do with Value Chain analysis
"I can now sit in a meeting with my stakeholders and articulate the role information plays in their workflows. They understand our contribution to their success." Information Senior Scientist, heavy manufacturing industry
---
With Jinfo Consulting, you get accountability, fine-tuned guidance and industry-wide perspective.