Lynn Strand

Lynn Strand has over 20 years of experience in research, information services and business administration.
Her expertise in market intelligence and consumer insights has driven her career for the past five years. Prior to Jinfo, she worked with ad agencies, marketing start-up firms, global high tech data organizations, healthcare manufacturing, and small retail chains. Much of Lynn"s work contributed to market planning and sizing, industry trend watching and client education. She is a sought after speaker, trainer and facilitator at library industry conferences and is a volunteer trainer for new entrepreneurs in Minneapolis.
Lynn holds a BA in Anthropology and a Masters of Library and Information Science, and executive education in Marketing.
Articles by Lynn Strand:
---

Product reviews and market landscapes of 2019
Monday, 13th January 2020
Check out this useful list of product reviews and market landscapes from 2019 - and find out how to submit your suggestions for future coverage.
---

Upcoming Jinfo events: webinars and Community sessions on current awareness and intelligence
Wednesday, 23rd October 2019
Register for a Jinfo webinar or Community session to give yourself a commitment to a 60-minute period of thinking about the future.
---

How I surprised my hiring manager with my MLIS
Monday, 12th June 2017
Information professionals need to continually educate the business world about how our unique abilities fit within the organisation, and how they can add immense value to the bottom line. Lynn Strand shares her experience of the hiring process for a market intelligence role as well as some ideas to implement for your next interview or performance review.
---

Ebooks and elearning - partnering for success
Friday, 5th May 2017
Today's organisations have a unique challenge in reaching employees across the globe for training and development. With the advent of digital learning, information centres are perfectly positioned to provide this service. This article offers some creative ways to engage end-users and to partner with other departments such as HR or IT to create cross-functional learning opportunities.
---

Reflecting on the Jinfo Research Focus "Source Expertise - What It Means in a Google World"
Tuesday, 28th June 2016
As the Jinfo Research Focus "Source Expertise - What it Means in a Google World" reaches its conclusion, co-producer Lynn Strand looks back over the Focus and highlights some of the key articles, market landscapes and reviews on subjects from data discovery, design thinking, big data, Google and new product offerings.
Reports by Lynn Strand:
---

FreePint Survey into Web Usage Policies
Monday, 9th November 2015
Do organisations have policies in place around use of web content? Do they need them? FreePint research tackled this issue which goes beyond use of so...
What's new at Jinfo?
Holding vendors to account
Thursday, 15th December 2022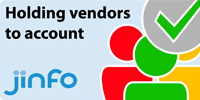 Community dates
---
[New] The Jinfo Subscription is back by popular demand!
13th October 2022
---
"Are you in a "proactive state of resilience"?"
15th November 2022
With the year end looming, our clients are closing out their 2022 deliverables and turning their attention to 2023 and the challenge of a more uncertain operating environment.
Read on the Blog