Seth Earley

President and CEO of Earley & Associates, Seth has been implementing content management and knowledge management projects for over 14 years and has been in the technology field for 20 + years. He is founder of the Boston Knowledge Management Forum and co-author of Practical Knowledge Management from the IBM Press. He is former adjunct professor at Northeastern University, where he taught graduate courses in Knowledge Management Infrastructure and E Business Strategy. He was 2009 Co-Chair of the Metadata Committee, NDIIPP Education and Outreach for the Academy of Motion Picture Arts and Sciences (AMPAS).
Seth has developed search, content and knowledge strategies for global organizations and has developed underlying taxonomies for a diverse roster of Fortune 1000 companies. He is a popular speaker and workshop leader at conferences throughout North America speaking on intranet design, knowledge management, content management systems and strategy, taxonomy development and other related topics.
Articles by Seth Earley:
---

Sense-making and information recombination - a FUMSI Editorial
Tuesday, 17th April 2012
The world runs on information flow. Money is information, products contain information – the most complex and sophisticated products can be broken down into basic materials assembled through application of knowledge and information to create novel and unexpected solutions.
What's new at Jinfo?
Jinfo Overview - August 2021
View on YouTube
---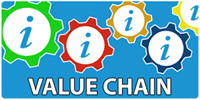 Five newly recorded webinars on how to complete the activities in our Focus on Value Chain now available.
---
Express value the way stakeholders do with Value Chain analysis
"I can now sit in a meeting with my stakeholders and articulate the role information plays in their workflows. They understand our contribution to their success." Information Senior Scientist, heavy manufacturing industry
---
With Jinfo Consulting, you get accountability, fine-tuned guidance and industry-wide perspective.