Camille Reynolds

Camille Reynolds currently serves as Director of Risk Management & Information Services at Fenwick & West LLP, a law firm with over 300 attorneys in the US. She directs the Firm"s risk management and information services functions including library, docket, risk management including conflicts and new business intake, records and patent & trademark docket. She combines strong leadership and organizational skills to direct the Firm"s team of risk and knowledge professionals. The eLibrary case study details work done at Camille"s prior Firm Nossaman LLP.
Articles by Camille Reynolds:
---

Turning space challenges into an eLibrary opportunity
Thursday, 10th May 2012
Like the larger economy, the legal marketplace continues to experience unprecedented change. As we barrel forward in the electronic and information age, those changes continue to affect law firms and other organisations across the world. The firm library can turn these challenges into opportunities by applying new strategies to old ideas, and engaging vendors to help solve problems.
---

From shelves to bytes: one law library's journey to a visual eLibrary
Thursday, 10th May 2012
Economic changes impact where investments are made and how clients are served. Many of these changes are the direct result of clients shining the spotlight on the delivery and pricing of legal services. Smart organisations focus more on efficiency and cost savings as they continue to grow and adapt services to meet client needs in a better way.
What's new at Jinfo?
Jinfo Overview - August 2021
View on YouTube
---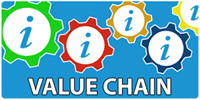 Five newly recorded webinars on how to complete the activities in our Focus on Value Chain now available.
---
Express value the way stakeholders do with Value Chain analysis
"I can now sit in a meeting with my stakeholders and articulate the role information plays in their workflows. They understand our contribution to their success." Information Senior Scientist, heavy manufacturing industry
---
With Jinfo Consulting, you get accountability, fine-tuned guidance and industry-wide perspective.