Carolyn J. Sosnowski

Carolyn J. Sosnowski is the Director of Education and Information Services at the Special Libraries Association. She began at SLA as an information specialist, conducting research for staff and assisting members with requests for information on topics such as the value proposition, salary benchmarks, and strategic planning. Currently, her primary role is planning and executing professional development programming for information professionals through SLA"s Click University. Carolyn develops and produces several webinars each year, administers the increasingly popular copyright and knowledge management certificate programmes, and is the content manager for SLA"s annual conference. She is a member of SLA"s Information Ethics Advisory Council, which in 2010 produced professional ethics guidelines for SLA members, and is also part of the task force that is updating SLA"s competencies for information professionals. Prior to her joining SLA in 2003, Carolyn worked in both for-profit and non-profit organisations, including Medco, Mercer, the Corporate Executive Board, and the Insurance Institute for Highway Safety, in a variety of information management roles. Follow her on Twitter.
Articles by Carolyn J. Sosnowski:
---

Change as opportunity
Thursday, 10th May 2012
Information managers and other information professionals may not have fully realised that our talents apply outside the walls of the traditional research or library setting, but by now we are, or should be, on our way to reinventing and expanding our sphere of influence.
What's new at Jinfo?
Jinfo Overview - August 2021
View on YouTube
---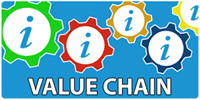 Five newly recorded webinars on how to complete the activities in our Focus on Value Chain now available.
---
Express value the way stakeholders do with Value Chain analysis
"I can now sit in a meeting with my stakeholders and articulate the role information plays in their workflows. They understand our contribution to their success." Information Senior Scientist, heavy manufacturing industry
---
With Jinfo Consulting, you get accountability, fine-tuned guidance and industry-wide perspective.