Dean Mason
Contributing Editor
Dean Mason is the Library and Information Services Manager in the London office of Salans LLP. He has a more than keen interest in current awareness technologies and in the last couple of years he has researched, developed and rolled out a current awareness service in the firm"s London office. He wrote a chapter for the BIALL Legal Information Handbook on current awareness technologies, which is due to be published in late 2012 or early 2013. He is also a member of the BIALL Publications Committee, which includes editing the association"s newsletter published six times a year. His achievements on the committee include a rewrite of the Legal Research Packs and redesign of association"s newsletter.
You can follow him on Twitter @deanjmason.
Articles by Dean Mason:
---

Putting information on the map
Monday, 3rd September 2012
According to an article in Technology Review earlier this year, we are very much in the midst of the "indoor positioning era". GPS has permeated its way in into our day-to-day lives by allowing us to effectively navigate and add value to the outside physical space. It was inevitable that at some point someone would ask the question: why can't we do the same with indoor space?
---

Paywalls and intelligence gathering
Wednesday, 29th August 2012
Paywalls have implications for those involved in press monitoring and intelligence gathering. 10 years ago it was possible for users to search comprehensively across content using a single third-party service, but what has changed?
---

Is content becoming anti-social?
Wednesday, 18th July 2012
There are more newspapers than ever before putting their digital content behind paywalls, particularly as there is evidence to suggest this may provide some mitigation to their flagging print sales. This no doubt offers some relief to the media industry, but as a result we seem to be moving backwards.
---

Key challenges for legal ebooks
Tuesday, 17th July 2012
Jean O'Grady's recent article on The Future of eBooks in Law Firms provides an excellent overview of the legal ebook market. She raises some key issues that are perhaps holding back the proliferation of legal ebooks in law firms. It could be argued that by coming up with the answers could result a "Kindle moment" for this sector.
---

Visualising your emails
Wednesday, 4th July 2012
The average workplace email inbox will often see several hundred emails pouring in daily, but a recent study notes that "nearly two-thirds" of these emails "are nonessential". So how can we better manage and not get distracted by emails that are unimportant, but will need our attention at a later stage?
What's new at Jinfo?
Jinfo Overview - August 2021
View on YouTube
---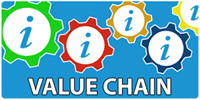 Five newly recorded webinars on how to complete the activities in our Focus on Value Chain now available.
---
Express value the way stakeholders do with Value Chain analysis
"I can now sit in a meeting with my stakeholders and articulate the role information plays in their workflows. They understand our contribution to their success." Information Senior Scientist, heavy manufacturing industry
---
With Jinfo Consulting, you get accountability, fine-tuned guidance and industry-wide perspective.