Kelly McNamara

Kelly is currently the Manager of Information Services for Key Bank"s Corporate Bank division, where she meets the information needs of over 2,000 professionals daily. Previously she managed a team of five librarians in Key"s Center for Strategic Information. This team provided customised information on companies, industries, and markets in order to help drive revenue, profitability, and shareholder value through research and information, analysis, and competitive and strategic intelligence.
Prior to joining Key, Kelly worked in the advertising industry, first as a producer of television and radio commercials for such clients as Goodyear, S.C. Johnson and Isuzu, and later as Manager of Information Resources at one of Cleveland"s largest advertising agencies. In that position, she specialized in translating research results into actionable marketing and communications strategies for clients such as Philips Medical Systems and Cole Vision. Kelly attended the Medill School of Journalism at Northwestern University and holds a Bachelor"s degree in Public Relations from the University of Toledo and a Master"s of Library Science from Kent State University. She is a native Clevelander.
Articles by Kelly McNamara:
---

Thinking about end users
Wednesday, 25th July 2012
As manager for information services for Key Bank, Kelly McNamara has to manage the needs and expectations of a wide range of end users. She comments on recent products reviewed by FreePint and offers her perspective on the growing trend towards user-focused products and services.
What's new at Jinfo?
Jinfo Overview - August 2021
View on YouTube
---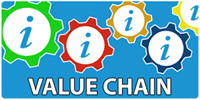 Five newly recorded webinars on how to complete the activities in our Focus on Value Chain now available.
---
Express value the way stakeholders do with Value Chain analysis
"I can now sit in a meeting with my stakeholders and articulate the role information plays in their workflows. They understand our contribution to their success." Information Senior Scientist, heavy manufacturing industry
---
With Jinfo Consulting, you get accountability, fine-tuned guidance and industry-wide perspective.