Tim Reynolds

Tim Reynolds is an Internet consultant and writer working in the Space, Energy and Internet industries and culture. He has over 15 years experience as an information professional. He began his career 17 years ago as a founding researcher/analyst at Strategic Forecasting, specialising in competitive intelligence. After obtaining his MLIS, he has worked in public libraries as archives and Head of Reference. Tim can be reached at tim@trpatterns.info.
Articles by Tim Reynolds:
---

Safety in Numbers? Crowdfunding and Competitive Intelligence
Thursday, 16th May 2013
In the years since crowdfunding started generating millions in funding, writers have covered crowdfunding projects either as success stories like Amanda Palmer's $1.25 million project, or they give marketing advice. This article shows how crowdfunding platforms (CFPs) such as Kickstarter and Crowdcube, reward or equity-based, could be a source of competitive intelligence.
---

Gleaning Competitive Intelligence from Crowdfunding
Tuesday, 14th May 2013
With the US JOBS Act opening up the crowdfunding market to venture capital in the US, the business world has taken notice of the new market. This article suggests that crowdfunding platforms (based on the combination of crowdsourcing and microfinance) offer access to open source market data - ready to be mined by information professionals.
---

Getting to the source: Science.gov
Thursday, 27th September 2012
The drive toward government transparency increases the amount of data availability to the public. To facilitate research and organise information, governments are creating more information portals. This article is a review of the underutilised portal Science.gov.
---

Leveraging the power of lesser-known US government sources
Thursday, 27th September 2012
Governments have increased transparency and access to scientific and technical information, providing information professionals with new sources of information. For those using US government databases, this appears to be a daunting task. This article reviews some lesser-known resources, with an exploration of the US government's evolution from a dispersed information system to a centralised federated database and portal-based system.
What's new at Jinfo?
Jinfo Overview - August 2021
View on YouTube
---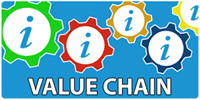 Five newly recorded webinars on how to complete the activities in our Focus on Value Chain now available.
---
Express value the way stakeholders do with Value Chain analysis
"I can now sit in a meeting with my stakeholders and articulate the role information plays in their workflows. They understand our contribution to their success." Information Senior Scientist, heavy manufacturing industry
---
With Jinfo Consulting, you get accountability, fine-tuned guidance and industry-wide perspective.