Cynthia Lesky

Cynthia Lesky is President and founder of Threshold Information, a business and technology research firm. Threshold"s information specialists answer business, science and technology questions and produce competitive intelligence digests and other curated current awareness products for corporate clients in food, pharmaceutical, electronics and other industries. Information centers are Threshold"s preferred clients, but in companies that are not served by internal information professionals, Threshold works with market research, competitive intelligence, research and development, strategy and other functions. Threshold is located near Chicago, Illinois (US).
Prior to forming Threshold in 1993, Cynthia held information services positions in the food and banking industries. Cynthia has a Master"s degree in Library and Information Science from the University of Illinois and a Bachelor"s degree in economics and business management. Memberships include SLA, where she has held several offices and committee memberships, the Association of Independent Information Professionals (AIIP), the Institute of Food Technologists (IFT) and SCIP. She is a past President and continuing board member of KM Chicago.
Articles by Cynthia Lesky:
---

Seeking 'Truthiness' in Information
Thursday, 15th November 2012
With journalism in disarray, news distribution channels changing and simple human error, business research that results in reliable competitive or market intelligence is more difficult to conduct than ever. The foundation for successful research and analysis can be expressed in simple terms: Right Skill Set, Right Mind Set and Right Reports.
---

Three Fundamentals for Business Research in the Post-Truth Era
Thursday, 15th November 2012
The dismantling of traditional media culture and the proliferation of content channels for business-relevant news may result in more errors and misstatements in the sources that business research analysts rely on. To counter these forces, the author reminds readers of the foundation of good research and analysis, and in doing so presents a simple framework that incorporates skills in discovery and assessment; scepticism, critical thinking and prioritising; and candid, consultative reporting.
What's new at Jinfo?
Jinfo Overview - August 2021
View on YouTube
---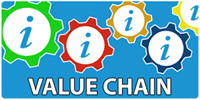 Five newly recorded webinars on how to complete the activities in our Focus on Value Chain now available.
---
Express value the way stakeholders do with Value Chain analysis
"I can now sit in a meeting with my stakeholders and articulate the role information plays in their workflows. They understand our contribution to their success." Information Senior Scientist, heavy manufacturing industry
---
With Jinfo Consulting, you get accountability, fine-tuned guidance and industry-wide perspective.