Jo Alcock

Jo Alcock is a chartered information professional with experience in academic libraries, currently working as evidence based researcher in the library at Birmingham City University.
She works on a number of projects for the library and information sector, including the Jisc-funded Journal Usage Statistics Portal and Institutional Repository Usage Statistics. She is also currently coordinating the CILIP Leadership Programme, a pilot programme for developing leaders within the library and information profession.
Jo is passionate about research and its application in practice, and provides training and support for library and information professionals wanting to conduct their own research to inform their practice. Jo blogs as Joeyanne Libraryanne and tweets as @joeyanne.
Articles by Jo Alcock:
---

My Favourite Tipples from an Evidence Based Researcher
Wednesday, 3rd June 2015
My Favourite Tipples are shared by Jo Alcock, evidence based researcher in the library at Birmingham City University. She shares her favourite online resources in areas from task management to surveys... and knitting.
---

Increase Your Productivity - Just Get it Done!
Thursday, 7th February 2013
David Allen's Getting Things Done (GTD) productivity system can help you clear your mind, organise incoming information, and decide what to focus on at any given time. Jo Alcock provides an overview of the GTD system and recommends tools to help you improve your productivity.
---

Decimate Your 'To Do List': Get Things Done
Thursday, 7th February 2013
This article provides an introduction to David Allen's Getting Things Done (GTD) methodology. It discusses each of the five stages in the GTD process, and provides tips to help you integrate the system into your workflow to improve your productivity.
What's new at Jinfo?
Jinfo Overview - August 2021
View on YouTube
---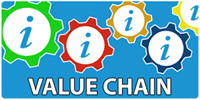 Five newly recorded webinars on how to complete the activities in our Focus on Value Chain now available.
---
Express value the way stakeholders do with Value Chain analysis
"I can now sit in a meeting with my stakeholders and articulate the role information plays in their workflows. They understand our contribution to their success." Information Senior Scientist, heavy manufacturing industry
---
With Jinfo Consulting, you get accountability, fine-tuned guidance and industry-wide perspective.