Victor Camlek

Victor Camlek is a veteran information industry analyst with extensive corporate experience including VP of Market Intelligence for the IP & Science Business of Thomson Reuters. Victor began his career as an information professional and developed his expertise in Market and Competitive Intelligence at Telcordia Technologies (now part of Ericsson).
In addition to writing for FreePint Victor provides a range of market intelligence services to clients. He enjoys leading special MI training and scenario planning exercises. He has been a speaker at Online, ICIC, SLA and NFAIS and is a member of the NFAIS conference planning committee. He has also been active in the SLA CI Division including a year as the Division Chair. Victor may be reached at victor.camlek@gmail.com
Articles by Victor Camlek:
---

Big Data In Action: Epilogue
Wednesday, 19th June 2013
The FreePint Topic Series: Big Data in Action wrapped up with a global webinar. Victor Camlek reviews the highlights of the webinar, recent interviews with key big data experts Attunity, Connotate, Linguamatics and Opera Solutions, and offers a final view of the Series.
---

Moving from an Info Pro To a Big Data Career: Big Deal or Big Headache?
Wednesday, 22nd May 2013
As studies show a shortage of big data experts and an estimated 4 million roles in the sector predicted by 2018, Victor Camlek considers what big data jobs are likely to involve and which attributes and skills are required of information professionals considering a move into the world of big data.
---

Big Data and the Enterprise Information Professional
Friday, 17th May 2013
Victor Camlek reviews what big data means for the information professional in a corporate information centre, library or strategic planning department. Opportunities abound for info pros to take the lead as content advocates on big data issues and to deliver an active agenda aimed at documenting, tracking and attending physical and virtual events focused on big data - to deliver a strong return on investment.
---

Big Data Gets Sociable
Friday, 10th May 2013
Victor Camlek examines how the huge pot of social networking data is set to take the big data world by storm, impacting on sales, marketing, research and KM professionals across all fields.
---

Big Data is All Around Us
Thursday, 9th May 2013
Victor Camlek reviews recent FreePint articles and considers the pervasive nature of big data in areas from the legal sector to knowledge management. He also highlights the upcoming FreePint Webinar: Big Data in Action: Plain Language, Practical Guidance.
Reports by Victor Camlek:
---

FreePint Report: Product Review of just-auto's QUBE
Tuesday, 26th March 2013
Victor Camlek takes a look under the hood of QUBE, a relatively new product offering automotive news and market information as well as coverage of the...
What's new at Jinfo?
Jinfo Overview - August 2021
View on YouTube
---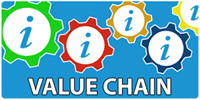 Five newly recorded webinars on how to complete the activities in our Focus on Value Chain now available.
---
Express value the way stakeholders do with Value Chain analysis
"I can now sit in a meeting with my stakeholders and articulate the role information plays in their workflows. They understand our contribution to their success." Information Senior Scientist, heavy manufacturing industry
---
With Jinfo Consulting, you get accountability, fine-tuned guidance and industry-wide perspective.