Matt Benati

Matt Benati, Attunity"s Vice President of Global Marketing, is responsible for Attunity"s worldwide marketing and sales enablement efforts. His focus is on driving Attunity"s brand awareness and demand generation. With over 20 years" of experience in the B2B technology industry, Matt has also held senior product marketing positions at companies including IBM, Netezza, Application Security, Kronos and Excara. Matt holds a BS in Electrical Engineering from Clarkson University in Potsdam, NY; an MS in Electrical Engineering from Tufts University in Medford, MA; and an MBA from Babson College in Babson Park, MA. He is also a Pragmatic Marketing Certified Product Manager.
Articles by Matt Benati:
---

Do You Really Want to Send Your Data FedEx?
Tuesday, 23rd April 2013
Moving data, and in particular, big data, is a specialist task. Matt Benati explains why it's essential that the transfer of large datasets be carried out speedily and efficiently - and how analytics rely on the freshest data for competitive advantage.
---

Transferring Big Data by Bullet Express Train
Monday, 22nd April 2013
Analysis and outputs are the two issues usually associated with big data but there is another one which is just as important: data movement. Matt Benati explains why speedy data movement and skilled data scientists are essential to successful big data projects.
What's new at Jinfo?
Jinfo Overview - August 2021
View on YouTube
---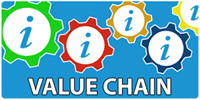 Five newly recorded webinars on how to complete the activities in our Focus on Value Chain now available.
---
Express value the way stakeholders do with Value Chain analysis
"I can now sit in a meeting with my stakeholders and articulate the role information plays in their workflows. They understand our contribution to their success." Information Senior Scientist, heavy manufacturing industry
---
With Jinfo Consulting, you get accountability, fine-tuned guidance and industry-wide perspective.