Keith Cooper

Chief Executive Officer of Connotate, Keith Cooper brings more than 20 years of experience to Connotate with a proven record of successfully leading innovative technology companies to rapid growth and exceptional value. Recent leadership roles include serving as President of Carbonite, an online backup company; CEO at webHancer Corporation, a company Cooper led and successfully sold to Microsoft; and CEO of FaxNet, specialist in messaging solutions for large telecom companies, and acquired by Critical Path.
A graduate of Harvard Business School and Harvard College, Keith serves on the Content Division Board of Directors of the Software and Information Industry Association (SIIA) and is Chairman of the Harvard Rugby Alumni Association.
Articles by Keith Cooper:
---

Big Data - Where are the Boundaries?
Tuesday, 7th May 2013
Big data is, by definition, big. But what do we mean by "big"? Keith Cooper, CEO of Connotate, explains how setting boundaries and having clear business goals is essential when working on big data projects.
---

The Importance of Context in Search and Big Data
Monday, 29th April 2013
Keith Cooper provides an insight into web data extraction and monitoring in the field of big data and explains how unstructured big data can be turned into actionable information. He also explains the importance of context in search and why narrowing the field of enquiry produces the most relevant data for subsequent analysis.
What's new at Jinfo?
Jinfo Overview - August 2021
View on YouTube
---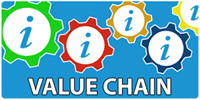 Five newly recorded webinars on how to complete the activities in our Focus on Value Chain now available.
---
Express value the way stakeholders do with Value Chain analysis
"I can now sit in a meeting with my stakeholders and articulate the role information plays in their workflows. They understand our contribution to their success." Information Senior Scientist, heavy manufacturing industry
---
With Jinfo Consulting, you get accountability, fine-tuned guidance and industry-wide perspective.