Richard Corbridge

Richard Corbridge joined the National Institute for Health Research in 2011 as Chief Information Officer and is also the Senior Information Risk Owner for the organisation. Richard has worked for more than fifteen years in Information Technology and Change within healthcare, developing strategy to ensure benefit is gained from information technology and systems and implementing solutions into various care settings at a national and local level. Richard is leading an ambitious programme of informatics delivery and change across clinical research in the NHS, taking innovation from across the technology sector and ensuring it can be implemented to the benefit of the research journey, making research in the NHS an attractive prospect for all.
Articles by Richard Corbridge:
---

Info Pros Get More Involved with Big Data
Wednesday, 22nd May 2013
Richard Corbridge of the National Institute for Health Research explains how his organisation has seized the opportunities created by the big data explosion and discusses the "trend rift" in the information professionals and how this relates to the "Suits" and "Hoodies" approach.
What's new at Jinfo?
Jinfo Overview - August 2021
View on YouTube
---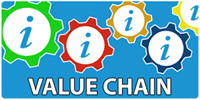 Five newly recorded webinars on how to complete the activities in our Focus on Value Chain now available.
---
Express value the way stakeholders do with Value Chain analysis
"I can now sit in a meeting with my stakeholders and articulate the role information plays in their workflows. They understand our contribution to their success." Information Senior Scientist, heavy manufacturing industry
---
With Jinfo Consulting, you get accountability, fine-tuned guidance and industry-wide perspective.