Katherine Allen

Katherine Allen is European Business Development Director for Information Today and works on a variety of conferences: Internet Librarian International, Enterprise Search Europe, and publications including Streaming Media Europe, and Information Today Europe eNews. She is a columnist for EContent magazine. www.internet-librarian.com
Articles by Katherine Allen:
---

Big Data Opportunities for Enterprise Librarians
Thursday, 23rd May 2013
Kat Allen looks at skills which enterprise information professionals bring to the world of big data and why they want seats at the table alongside data scientists and developers.
What's new at Jinfo?
Jinfo Overview - August 2021
View on YouTube
---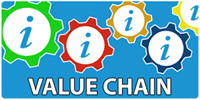 Five newly recorded webinars on how to complete the activities in our Focus on Value Chain now available.
---
Express value the way stakeholders do with Value Chain analysis
"I can now sit in a meeting with my stakeholders and articulate the role information plays in their workflows. They understand our contribution to their success." Information Senior Scientist, heavy manufacturing industry
---
With Jinfo Consulting, you get accountability, fine-tuned guidance and industry-wide perspective.