Sue Hill

Sue Hill Recruitment & Services Ltd (SHR) focusses on the staffing needs and careers of information specialists in a fast-moving, technologically enhanced era. SHR"s focus, under Sue Hill"s guidance, is enabling client hirers to find the best people and encouraging job seekers to see their strengths and develop accordingly. Rather guiltily she admits she probably has the best job in the world, thoroughly enjoys seeing people progress and achieve their best and having a hand in pointing them in an upwards direction. Sue and the team enjoy keeping up with the many waves of change that wash through the information world and using that knowledge in their daily activities.
Articles by Sue Hill:
---

Reskilling for Survival in an Increasingly Information-Biased World
Thursday, 23rd May 2013
Info pro expert Sue Hill of Sue Hill Recruitment explains how it's essential that her organisation keep on top of big data development trends in order to best advise client companies and job seekers. She explains what info pros should do to position themselves at the centre of the big data opportunity.
What's new at Jinfo?
Jinfo Overview - August 2021
View on YouTube
---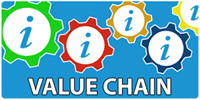 Five newly recorded webinars on how to complete the activities in our Focus on Value Chain now available.
---
Express value the way stakeholders do with Value Chain analysis
"I can now sit in a meeting with my stakeholders and articulate the role information plays in their workflows. They understand our contribution to their success." Information Senior Scientist, heavy manufacturing industry
---
With Jinfo Consulting, you get accountability, fine-tuned guidance and industry-wide perspective.