Dee Magnoni

Dee Magnoni is the Library Director at Franklin W. Olin College of Engineering in Needham, Massachusetts, USA. She was hired as the library"s first director in 2002 and set up much of the services and resources from scratch, including a realia collection that engages several of the students" intelligences. Dee"s creation of internal and external partnerships has led to deeper integration of the library into the curriculum and stronger services and resources available to the community.
Dee previously worked in both business and engineering libraries within corporate America and academia. She received her MLS from SUNY-Albany (1992) and her BA from Lehigh University (1986).
Articles by Dee Magnoni:
---

Collaboration in Cape Town: IATUL Annual Conference
Monday, 29th July 2013
At this year's IATUL Annual Conference, library directors and senior managers shared experiences and networking opportunities and heard from renowned speakers on subjects such as technology trends which will impact their work. Trends to watch in 2013 include the evolution of search, cloud computing, social/gaming and linked open data. Other technology developments which will continue to shape services include those around blended learning, e-research and open access.
What's new at Jinfo?
Jinfo Overview - August 2021
View on YouTube
---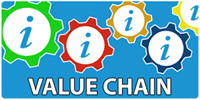 Five newly recorded webinars on how to complete the activities in our Focus on Value Chain now available.
---
Express value the way stakeholders do with Value Chain analysis
"I can now sit in a meeting with my stakeholders and articulate the role information plays in their workflows. They understand our contribution to their success." Information Senior Scientist, heavy manufacturing industry
---
With Jinfo Consulting, you get accountability, fine-tuned guidance and industry-wide perspective.