Matthew Baker

Matthew Baker is a senior associate in Berwin Leighton Paisner"s Financial Services team. He advises a wide range of banks and financial institutions on regulatory and commercial issues that arise within their businesses.
He also advises financial institutions and other authorised firms on matters relating to: interpretation of UK rules and regulatory requirements; establishing and structuring new financial and fund business operations in the United Kingdom; compliance, asset management and custody arrangements; regulation of managers and fund formations; and the acquisition, disposal and reorganisation of regulated businesses or institutions.
Articles by Matthew Baker:
---

The Global Regulatory Environment: Key Issues for Compliance Teams
Friday, 11th October 2013
Ensuring compliance with the rules of a home regulator alone has become increasingly challenging, but add to this enhanced regulation in all markets in which a global financial services institution operates, then firms have an unenviable task to ensure compliance. Matthew Baker and Victoria Brocklehurst examine the key issues for compliance teams, from differences of approach between jurisdictions to conflicting approaches between initiatives and planning for the impact of new controls.
---

The Global Regulatory Environment: Regulatory Risks for Businesses
Thursday, 10th October 2013
Identifying the regulatory risks for global organisations is an increasingly-complex task as the amount of regulation and legislation faced by the financial services industry continues to grow at an alarming rate. Victoria Brocklehurst and Matthew Baker explain the differences of approach to compliance between countries and jurisdictions. They outline key risks which compliance teams should consider, from extra-territoriality to the varying rules surrounding the marketing of products into different jurisdictions.
What's new at Jinfo?
Jinfo Overview - August 2021
View on YouTube
---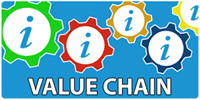 Five newly recorded webinars on how to complete the activities in our Focus on Value Chain now available.
---
Express value the way stakeholders do with Value Chain analysis
"I can now sit in a meeting with my stakeholders and articulate the role information plays in their workflows. They understand our contribution to their success." Information Senior Scientist, heavy manufacturing industry
---
With Jinfo Consulting, you get accountability, fine-tuned guidance and industry-wide perspective.