Jantinus Meints

Jantinus Meints joined EY over 30 years ago in the Netherlands and has had a very diverse career, varying from a client-facing auditor to the project manager for deploying the first personal computers, as well as being a member of EY"s first global knowledge management steering group. Recent positions have included Chief Knowledge Officer for the Central European Area and the Knowledge Operations Leader for EMEIA.
Since 2010, Jantinus has been leading the knowledge organisation"s Global Acquired External Content team, responsible for advising on EY"s information contracts.
Articles by Jantinus Meints:
---

Introducing the Acquired Content Adviser
Monday, 18th November 2013
The information market is in a period of great change, creating the opportunity to rethink the way we procure content. Organisations need professionals in place who understand both the business and the information marketplace, argues Jantinus Meints of EY as he makes the case for the "acquired content adviser" whose mission is to guide the business in developing a portfolio of content that provides the best value.
---

From Content Cost to Value: the Rise of the Content Adviser
Monday, 18th November 2013
Jantinus Meints of EY explains how the company's content procurement process aims to meet the dual requirements of negotiating a good price on content licences and identifying the content that aligns with the professional services firm's strategy. He also explores the impact of the move from tangible to intangible content and the importance of optimising content purchases through a portfolio approach.
What's new at Jinfo?
Jinfo Overview - August 2021
View on YouTube
---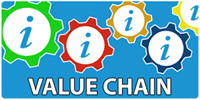 Five newly recorded webinars on how to complete the activities in our Focus on Value Chain now available.
---
Express value the way stakeholders do with Value Chain analysis
"I can now sit in a meeting with my stakeholders and articulate the role information plays in their workflows. They understand our contribution to their success." Information Senior Scientist, heavy manufacturing industry
---
With Jinfo Consulting, you get accountability, fine-tuned guidance and industry-wide perspective.