Adam Pope

Adam Pope is the winner of two Intranet Innovation Gold Awards, and for the past seven years he has been leading the online implementation of Arup"s Communities of Practice.
Bringing Arup"s 12,000 planners, designers, engineers and consultants together to learn and share discipline-specific information, the communities enable Arup to nimbly respond to challenges and opportunities in an environment characterised by rapid change. Adam holds a Masters in Library and Information Science from New Zealand and is a Chartered Member of CILIP. He blogs at Information Handyman.
Articles by Adam Pope:
---

My Favourite Tipples from a Communities of Practice & Digital Library Specialist
Wednesday, 15th January 2014
Adam Pope helps meet the online needs of 80 Communities of Practice at Arup, the engineering consultancy. He shares his favourite tipples.
What's new at Jinfo?
Jinfo Overview - August 2021
View on YouTube
---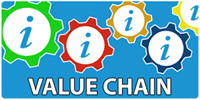 Five newly recorded webinars on how to complete the activities in our Focus on Value Chain now available.
---
Express value the way stakeholders do with Value Chain analysis
"I can now sit in a meeting with my stakeholders and articulate the role information plays in their workflows. They understand our contribution to their success." Information Senior Scientist, heavy manufacturing industry
---
With Jinfo Consulting, you get accountability, fine-tuned guidance and industry-wide perspective.