Richard Hare

Richard Hare is a knowledge management and intranet user experience consultant who has worked with enterprise collaboration tools for nearly 20 years, from early experiments with online communities and blogs, to implementing one of the first enterprise social networks in a FTSE 100 organisation.
A co-founder of Intranetters, a group for intranet managers which meets regularly in London to show and discuss intranets, Richard is an accredited Cognitive Edge practitioner and can be found on numerous social networks, including Twitter @richardhare.
Articles by Richard Hare:
---

How Effective is Your Enterprise Social Network?
Friday, 7th February 2014
Enterprise social tools are different to business process tools, explains Richard Hare, and that's why the measures of effectiveness also need to differ in order to identify increases in connectivity, improved awareness, stimulated communication and better problem-solving.
---

What's the Problem with Enterprise Social?
Wednesday, 5th February 2014
Richard Hare looks at the development of social computing tools over the past 10 years and asks whether they are failing to deliver or whether we are using the wrong measures. He discusses what makes a tool social, what makes social tools different from others and the benefits of creating an enterprise which is social.
What's new at Jinfo?
Jinfo Overview - August 2021
View on YouTube
---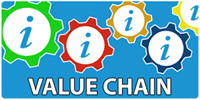 Five newly recorded webinars on how to complete the activities in our Focus on Value Chain now available.
---
Express value the way stakeholders do with Value Chain analysis
"I can now sit in a meeting with my stakeholders and articulate the role information plays in their workflows. They understand our contribution to their success." Information Senior Scientist, heavy manufacturing industry
---
With Jinfo Consulting, you get accountability, fine-tuned guidance and industry-wide perspective.