Michael Gruenberg

Michael Gruenberg founded Gruenberg Consulting, LLC in January 2012 to provide clients with sales staff analysis, market research, executive coaching, tradeshow preparedness and best practices, and advice for improving negotiation skills for librarians.
Formerly director of sales for strategic account management at ProQuest, Mike organised and led the sales team that developed the Fortune 500/Corporate and Medical/Healthcare markets. He held senior sales positions at Disclosure, OneSource, Primary Source Media and Oxford Analytica over a 30+ year career.
He is an avid lifelong collector of music recordings and since 2000 a columnist for www.jambands.com.
Articles by Michael Gruenberg:
---

Mutual Negotiation Success for Information Professionals and Salespeople
Wednesday, 19th March 2014
The process of purchasing information products and services can be a complex one. Michael Gruenberg, author of the book "Buying and Selling Information", illustrates how information professionals and the vendors who supply them can move towards a more successful sales and ongoing customer relationship.
---

The Importance of Value
Wednesday, 19th March 2014
Michael Gruenberg, author of the book "Buying and Selling Information" provides insights into how to get the most out of the buying (or selling) process. He sheds light on how it's about much more than price; equally as important are relationships and quality of product. Mike also illustrates the importance of appreciating features vs benefits.
What's new at Jinfo?
Jinfo Overview - August 2021
View on YouTube
---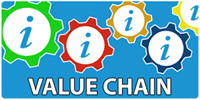 Five newly recorded webinars on how to complete the activities in our Focus on Value Chain now available.
---
Express value the way stakeholders do with Value Chain analysis
"I can now sit in a meeting with my stakeholders and articulate the role information plays in their workflows. They understand our contribution to their success." Information Senior Scientist, heavy manufacturing industry
---
With Jinfo Consulting, you get accountability, fine-tuned guidance and industry-wide perspective.